VLAB and YumiWork Business Incubator to Promote Local Entrepreneurship
March 28, 2020 8:00 am | Posted in Business Profiles | Share now TwitterFacebook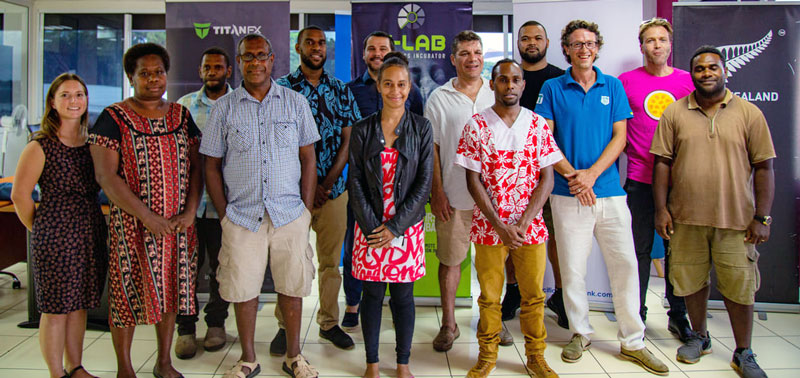 Local entrepreneurship legally creates liable routes leading to economic-expansion.
Entrepreneurs create jobs, generate wealth, build opportunities, promote innovation, stimulate competition and most importantly, they contribute prominently to the development of economic growth in the country.
Vanuatu has yet to achieve a balanced economy that manifests on the production and distribution of both local and expat businesses.
In our country, the business ecosystem is limited. There was no modern co-working space, no business incubator, no innovation agency, no robust structure to promote entrepreneurship.
In time, this challenge was confronted by a group of expats and Ni-Vans who came together to create the V-LAB (Vanuatu Laboratory) – a charitable association aimed to influence the development of a conducive environment while offering practical accompaniment solutions to young entrepreneurs.
V-LAB has partnered with YumiWork – the first co-working space located in the heart of Port Vila which offers premium facilities, specifically designed to ensure access to quality services and optimal interactions.
V-LAB and YumiWork are both distinctive structures with collaborated relations.
Last year, V-LAB President MarcAntoine Morel and YumiWork Director Marc Gerad has worked together to formulate the idea of a Business Incubator, one of the first in Vanuatu.
The Business Incubator was launched on November 21st 2019.
Both directors had decided to create a working space for two significant reasons:
1. To promote and facilitate entrepreneurs
2. To accompany young entrepreneurs in the development of their business
YumiWork and V-LAB has launched a call for business entrepreneurs in the country last year with hopes to find great thinkers, both local and expat who can one day change Vanuatu with their innovative ideas.
The V-LAB and YumiWork team has decided to influence the development of a conducive environment for entrepreneurship while offering practical accompaniment solutions to entrepreneurs.
With aims to seek and provide a range of facilities, solutions and services to accompany local and international entrepreneurs in the development and growth of their business.
Following a call for business ideas launched last year, V-Lab has received almost 40 application.
Out of these applications, 10 entrepreneurs were pre-selected and subsequently interviewed by the selection panel.
Ultimately, 4 projects were selected, though the choice was really difficult given the quality of the applications received. These are:
Roy HARRY is the innovative founder and owner of GPS Vanuatu Dotcom. He intends to become Vanuatu's best and cheapest GPS tracker providers in Vanuatu.
Jack and Mary KALSRAP proudly own and operate Mamma's Laef Vanuatu which provides a locally made, eco-friendly alternative to disposable (plastic) hygiene products.
Vincent MARK is running a digital marketing company and is also managing an online platform (out of Facebook) called Lokol Praes which support local businesses to sell their products to the Islands of Vanuatu.
Jean-Marcellin TEILEMB and Louisa TUFALE, both students, intend to develop an online platform called HOMESTAY aimed at supporting eco-friendly tourism in Vanuatu through the promotion of homestays and other types of sustainable housing solutions.
---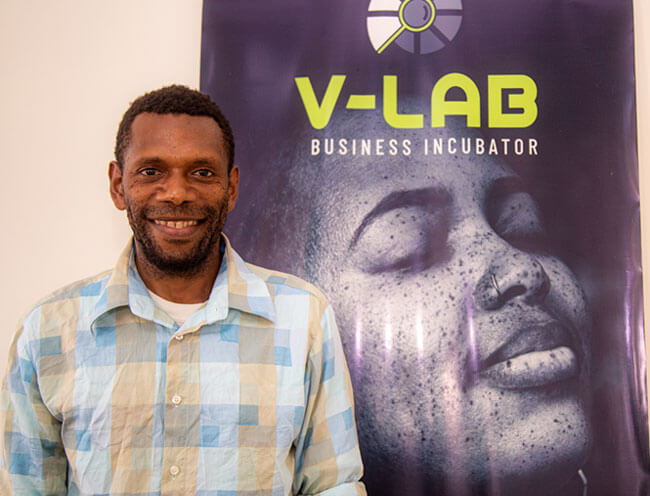 GPS Tracking in Vanuatu has just been made easier with GPS Vanuatu Dotcom – a business founded by Roy Harry from Malekula.
There are four GPS Tracking companies in Vanuatu, including GPS Vanuatu Dotcom who is the only company owned by a local businessperson.
His business provides a more simple and automated system for monitoring and keeping in track with vehicles and vessels in the country.
"Vehicles are important assets to a company and to an individual," he said
"The benefits are specially for companies to be able to track their vehicles, observe the number of stops made, inspect the speed limit and to monitor the behaviours of drivers.
"Our small geological area of land becomes an advantage, making it much easier to track vehicles."
Roy said the GPS tracking system can also be installed in ships so clients can monitor and be aware of the traveling routes made to each island in Vanuatu.
"Our GPS transmitters are built from the latest technology and shipped in all the way from Europe."
He hopes to expand his business to other islands in Vanuatu in the near future.
His advice to young entrepreneurs is to keep their focus on doing something that will contribute greatly to the economic growth of the country.
As a former RSE worker, Roy encourages young men and women who are currently working in the RSE scheme programs to put their money in good use and shift their focus to creating small businesses that will continuously generate income and in turn, will benefit the economy as a whole.
---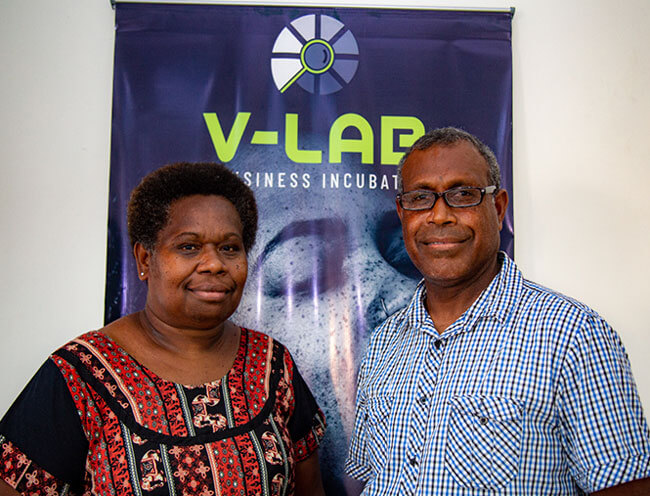 Probably one of the most notorious duo in the business industry, Jack and Mary Kalsrap as founders of the 'Mamma's Laef Vanuatu' have created some of the eco-friendliest products that could revolutionise the plastic world.
The dynamic duet from Pango Village have long been manufacturing reusable sanitary pads, reusable baby nappies, reusable incontinence products, reusable breast feeding pads and cotton baby blankets.
All products are purposely designed for women and made in Vanuatu by women.
Washable sanitary pads are beneficial and environmental friendly, they are perfect alternatives to plastic disposal products.
There are two types of manufactured reusable pads – the mini cotton fl eece (small) and the bamboo fleece (large).
Fleece is a man-made wonder product, 100% synthetic and derived from plastic rather than from a sheep's coat.
One package of reusable sanitary pads cost Vt1640. Per mini fl eece costs Vt500 and Vt650 for the bamboo fl eece.
With at least a 3-year life span if cared for properly, these kits can change the wholesome society for women.
The idea went far back in 2015, after the devastation caused by Cyclone Pam.
"There were loads of rubbish, especially plastic that took time to decompose," said Jack.
It was by then, the duo realised the importance of creating reusable sanitary products that could not only help women but at the same time, protect the environment.
With cotton fabric ordered from China and shipped in from New Zealand, the team of four workers stationed at Pango, are currently manufacturing and working on 4,000 deliveries to be delivered next month to Tanna island, although there will be delays depending on the current situation at hand, the business has rendered its continuous support for its clients.
The benefits of the reusable sanitary pads are: they are cost free, they can last 3-4 years if cared for properly, they are eco-friendly and they are locally made to promote local businesses, specially for women in business.
The disadvantages however are: no water supply in remote areas outside of town makes it difficult to wash and reuse pads and it is costly for students boarding in schools.
The two did not hesitate to say they will gladly step in to help produce alternatives for plastic disposal pads following the Ban of Plastics made by the Government last year.
The entrepreneurs encourage other local venders and young intellectuals to stop depending on Chinese products and commit themselves in doing something for their community and for our country.
"Struggling is pushing beyond any measure and against any challenges, there will be a time when you have nothing, no money to spare, but that should not stop you. Be patient, be focused and be willing to make sacrifices."
---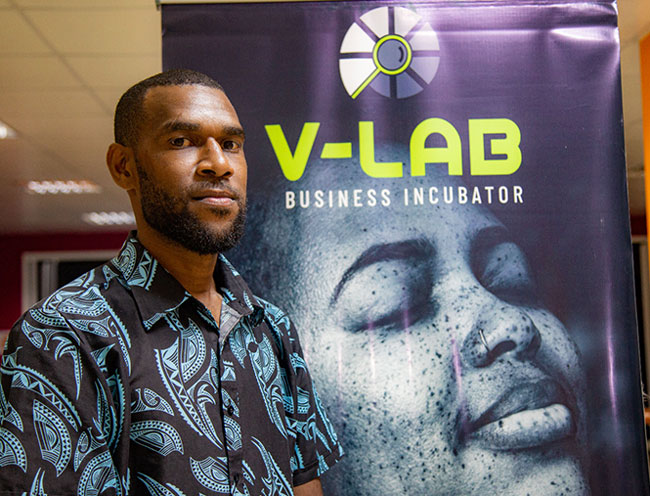 Vincent Mark is probably the youngest and one of the most determined entrepreneurs in the commercial world.
The young blood isn't new in the business industry, being the creator of Buy N Sell Vanuatu – a website dedicated to making it easier to find items to buy locally in Vanuatu.
He is also the founder of Wotz On Vanuatu – a devoted website on events, bookings, places to visit, things to do and Vanuatu Life & style.
Moreover, Vincent has also managed the Black Island Media Production – a digital marketing company that offers a wide range of media marketing services.
Vincent is currently the designer and manager of 'Lokol Praes' – an online platform that connects interested buyers around Vanuatu and sells cheap local products.
With supply lines as far as Bangladesh, China and New Zealand, Vincent hopes to offer items at affordable prices, particularly for people living in remote areas and in the islands, all offered with free delivery.
His inspiration was reflected back to one of his travels made to the island and his experiences with the hard-living, the high costs of transportation from a village to town and the excessive cost of living.
Vincent expects by the end of the Incubation training, he would be able to learn and build up his projects.
His advice to young entrepreneurs is to not be afraid to take risks, "go for it, take that leap of faith."
---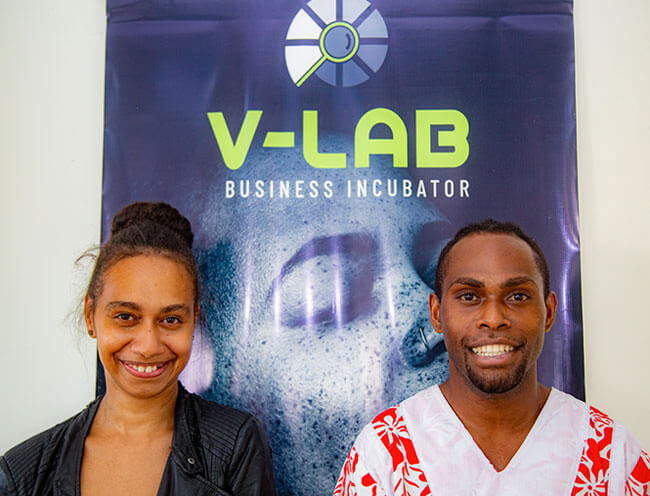 The next incubees will probably become the next iconic duo with dreams of preserving the environment through tourism.
Jean-Marcellin Teilemb and Louisa Tufale are both students studying at the Vanuatu National University in Port Vila.
Both have formulated the idea to create 'Home Stay Vanuatu' – an online program that promotes local accommodations to tourists.
The overall plan is to bring tourists and locals closer, to encourage diverse interfaces and give them an experience that's more indigenous and worth remembering.
"Our idea is to develop an ecological tourism environment in remote areas that still preserves their cultural and indigenous state," said Jean-Marcellin
Interested clients who wishes to become part of Home Stay Vanuatu will need to get their permits and meet conditions and recommendations which will be listed.
The benefits of this program are mainly to protect the environment and to build an adaptable scenery which improves the conditions of inhabitants living in remote areas.
Correspondingly, to help rural areas earn income through tourism and develop their land.
Their advice to youths is to focus on building a project that supports both your community and country.
V-LAB and YumiWork is ever grateful for the support given from sponsors: Bred Bank Vanuatu, Pacific Energy, Pacific Private Bank, telecom Vanuatu Limited, Titan FX and Vanuatu Daily Post.