EBS driving technology solutions for Vanuatu businesses
February 29, 2020 11:39 am | Posted in Business Profiles | Share now TwitterFacebook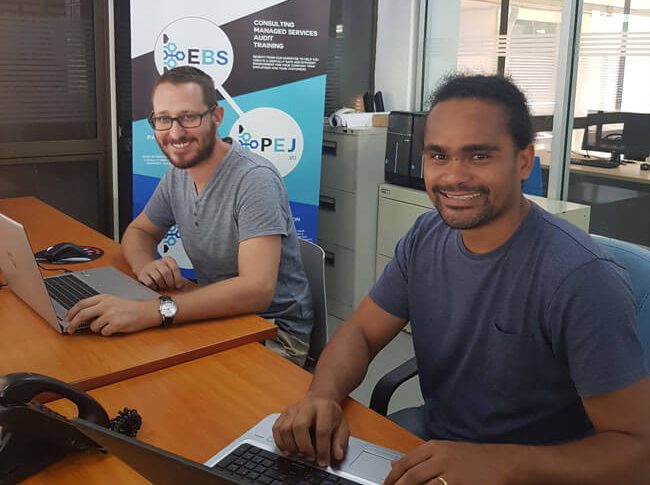 When it comes to bringing business to its full potential in Vanuatu, EBS has the answer. An IT powerhouse and leader in business technology solutions, EBS can provide any business from small- to medium-size enterprises (SMEs) to larger companies with IT solutions to help them become more efficient and more secure.
Made up of a team of French and NiVanuatu, EBS was started in 2015 and has since assisted companies such as Bred Bank, Air Vanuatu, TVL and VNPF, as well as local SMEs with managed IT services.
Company partner Tchien Tarianga moved from Santo to Port Vila in 2000 to further his studies at university. His plans were derailed when he was recruited by TVL as a computer repairs assistant, which ultimately led to his joining TVL's IT department where he met two French volunteers, Thomas Leroy and Arnaud Grosleron, who arrived in 2013. Together, the three formed EBS and have quietly transformed Vanuatu's business IT landscape.
"Each of us has different strengths," said Thomas. "Together, we can troubleshoot and find the right IT solutions for each business. We truly enjoy finding innovative solutions."
From establishing servers and firewalls to setting up redundancy for uninterrupted connections and disaster recovery, EBS is a small team making big things happen for businesses in Vanuatu. At the cutting edge of technology, EBS is the first Vanuatu implementer of an online payment gateway solution for Bred Bank Vanuatu and has developed strong partnerships with other industry leaders (Cisco, VMware, Microsoft, Watchguard, HP).
Addressing Vanuatu's skills gap
But while the concept of IT solutions in business is growing in Vanuatu, there is still a significant lag in terms of IT education, cyber security and even basic online presence. And while it seems expensive and timeconsuming, it isn't all that scary when you have a business such as EBS that can manage it for you, and educate you and your staff about it at the same time.
"There is an IT skills gap in Vanuatu," said Thomas "Our team has the potential to bring businesses up to speed with global technology without them having to turn to overseas companies."
Having a face-to-face service is one EBS' biggest strengths, making them easier to work with and communicate with on Vanuatubased projects. Some of the services they provide include ICT services and solutions, managed services (MSP), IT consulting and awareness and website hosting, private cloud services and SMS automation. One of their most recent projects was to support the new registrar for the setup of the new .vu domain network.
EBS is also a testing centre for Pearson VUE, a global computerbased testing program for academic, government and professional testing such as skills tests, IT certifications and real estate licenses. EBS now offers innovative computer-based testing opportunities through secure, electronic test delivery at their office in downtown Port Vila.
Anyone in Vanuatu can access the testing centre having only to pay for their exam, which can be scheduled as soon as they are ready to take it. There are hundreds of certifications available for different professions, including in IT, health, accounting, real estate and insurance.
"It's in the best interest of a business for their employees to have solid IT awareness," said Tari. "Good surfing habits will ensure better security of the network in case a firewall or antivirus fails."
Costly internet is another challenge amongst Vanuatu businesses, especially with data-heavy sites and apps, forcing business to fork out more to carry out daily operations.
"More bandwidth isn't necessarily the answer," said Thomas. "Configuring a firewall properly can save bandwidth by ensuring internet usage is restricted to business-related activities."
Sites and apps such as YouTube, Facebook, Spotify and Instagram are amongst the most dataconsuming in Vanuatu, and the most popular.
The EBS team have also recently become approved business advisors with Business Link Pacific, a New Zealand funded programme that encourages SMEs to seek professional advice by offering up to 50% subsidy of the cost of business advisory services subject to conditions.
When asked about the most satisfying part of the job: "Always having a new challenge," said Tari. "Every job is different and sometimes requires more research on our part in order to reach a solution."
Contact the EBS team at their offices at Anchor House in Port Vila on 24242 and learn more at www.ebs-vanuatu.com.