About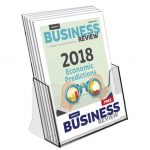 The Vanuatu Business Review is the nation's only credible source for business news and economic analysis.
The supplement is published monthly in the Vanuatu Daily Post newspaper free of charge, and reaches policy planners, decision makers, investors and business owners, as well as a large overseas audience. Our reporting has been cited and quoted in international media and throughout the Pacific.
No other publication offers the audience, insight or analysis that we do.