Being a Business Incubee
April 25, 2020 6:32 am | Posted in Business Profiles | Share now TwitterFacebook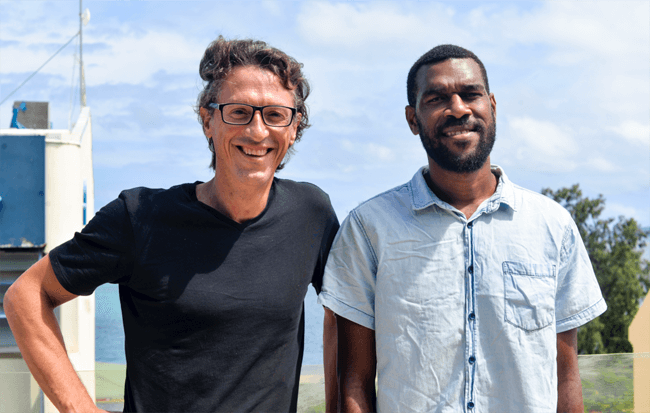 Just days in after the Business Incubator Program was launched in the year of 2019, a call was made by its co-founders in search for young innovative thinkers that could one day change the society with their constructive ideas.
The Business Incubator, an idea formulated by two distinctive associations with collaborated relations – VLAB (Vanuatu Laboratory) and YumiWork, is one of the many programs used around the world to train business entrepreneurs in starting and growing their own local businesses. V-LAB President, Marc-Antoine Morel has partnered with YumiWork Director Marc Gérard to formulate this idea.
Vanuatu is the only country in the Pacific region to launch its first Business Incubator.
From numerous applicants who answered the call, only five were selected to become part of the program.
To become a business incubee, young selected entrepreneurs will have to spend one year with YumiWork.
During that year, they will receive an extensive package of support from beneficial sponsors.
Selected entrepreneurs will be treated to a series of activities for young entrepreneurs such as coaching, mentoring, networking and training.
The selected applicants chosen to become young incubees for the program were:
Roy HARRY who is the innovative founder and owner of GPS Vanuatu Dotcom. He intends to become Vanuatu's best and cheapest GPS tracker providers in Vanuatu.
Jack and Mary KALSRAP proudly own and operate Mamma's Laef Vanuatu which provides a locally made, eco-friendly alternative to disposable (plastic) hygiene products.
Vincent MARK is running a digital marketing company and is also managing an online platform (out of Facebook) called Lokol Praes which support local businesses to sell their products to the Islands of Vanuatu.
Jean-Marcellin TEILEMB and Louisa TUFALE, both students from Vanuatu National University, intend to develop an online platform called HOMESTAY aimed at supporting eco-friendly tourism in Vanuatu through the promotion of homestays and other types of sustainable housing solutions.
The Business Incubator Trainings begun earlier on March, with incubee contracts to last a year.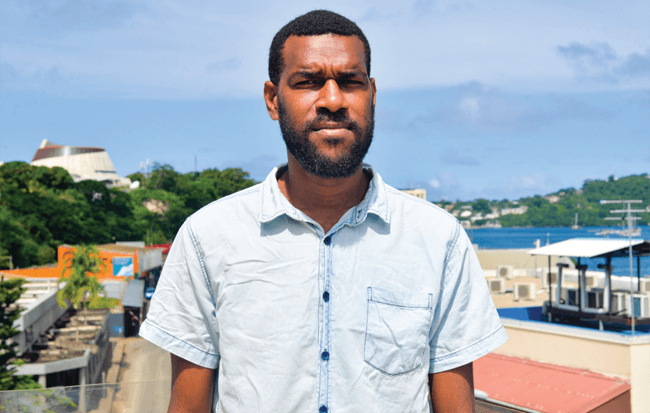 Amongst the lucky five, Vincent Mark, a young entrepreneur has already made headlines in the business industry with a number of productions built under his name.
Previously, Vincent has co-founded and helped built Buy N Sell Vanuatu, Wotzon Vanuatu and Car Sales while working closely with Arin Johnson the former owner, later on he was promoted as Head of Sales & Marketing and in charge of managing the staff.
He later resigned and created Black Island Media Production – a small digital marketing company.
His past line of work has seen successes and has earned him a spot to become an incubee at YumiWork.
Vincent is currently the founder of Lokol Praes whom he described as "a business idea developed through travels made to the outer islands and seeing the struggle people have to endure to purchase products they want in Port Vila."
"It was the high costs of transportation and the rip-off sales made by certain sellers from the islands.
"These products were sometimes sold twice the price purchased for from Port Vila town."
He noted his past work experiences have helped him to build his confidence and self-reliance on the ideas implemented into his innovative projects.
"I think with Lokol Praes we offer the best possible way for you to get a product available here in Port Vila.
"We even provide free delivery for our products to client except those in the island due to freighting cost. But we looking at ways to improve this in the future.
"We can also help you source a product you want in Port Vila using our networks and yes it will cost you a fee but it is guaranteed cheaper than travelling over to town to source it yourself."
Being an incubee is being trained to work in partnership, to become computer literate, understand how Marketing works, the means of Communication, the matters of Accounting, Business Development and as well as Banking Literacy.
All will be taught and supervised by local experienced trainers.
The overall view for VLAB and YumiWork is to connect innovative people and not let work in isolation.
Vincent said so far "the incubator trainings were beyond compare."
"I guess the Vanuatu Government should look at creating more of these incubators to cater for youth entrepreneurs in other parts of Vanuatu as well."
Asked if he could add a little change and improvement in his business, Vincent assured "we have been sharing ideas throughout the training with the other incubees and yes I've learnt some interesting stuff from them and as well from the trainers."
With a bright and determined future ahead, he added "if it's God's Will that I'm still alive in the next five years, then I want to see myself successful with Lokol Praes and then moving on to implementing other ideas I have to create employment for other youths like me."
He encourages other entrepreneurs who wished to join in on the next Business Incubator training to keep on being innovative and invest time in your projects to watch it grow.
"Don't even hesitate to submit your idea or project. You can even pop into V-lab and talk to Marc-Antoine or Marc-Gerard about it."