WanTok mobile, broadband and money transfer service launched
September 4, 2021 2:10 am | Posted in Business News | Share now TwitterFacebook
By Germain Sam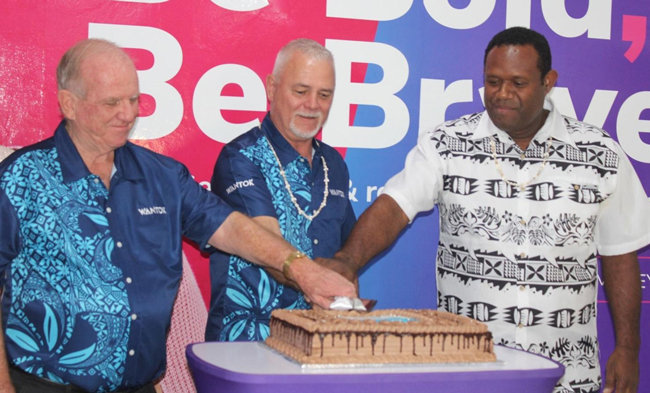 The newly formed WanTok Pacific Corporation (WPC) has launched a dynamic mobile, broadband and money transfer for its users in Vanuatu and Tonga yesterday.
WanTok Mobile and Broadband will allow users in both countries to stay in touch with friends and family across the Pacific islands including Australia and New Zealand and other countries such as USA, France and UK.
WanTok Money is a safe and transparent digital payment platform that allows users to send and receive money.
Chief Executive Officer (CEO) of WanTok Pacific Corporation in Vanuatu, Justin Kaitapu, said: "I'm really pleased to be spearheading change for the Pacific's communications landscape-at the helm of a Pacific owned business.
"As Pacific islanders, communication is critical to us, we need to ensure that we can stay in touch with family and friends here and abroad. WanTok will make it even more cost effective for our people to stay in touch."
Apart from the service, the company also launched its new brand identity, new head office, new broadband plans for consumers and businesses, and new services to follow are WanTok beats (music) and WanTok Go (movies).
The Corporation has a very experienced senior management team that will be looking to expand and invest across the Pacific region.
Current investment in Vanuatu include the state of the art LTE infrastructure upgraded and put in place, 'expensive' off-island bandwidth now connected and new cell towers built in Nuku'alofa, Tonga.
The company is also a new member of the Global Organization for Mobile Operators and has been issued an IR.21 license – meaning its mobile numbers are recognized globally.
Telecommunications, Radiocommunications and Broadcasting Regulator, Brian Winji, acknowledged the initiative of WanTok Vanuatu team to setting up the business and offering services in Vanuatu.