VT1.3 Billion Bilateral Grant Agreement Signed
January 16, 2021 3:19 am | Posted in Business News | Share now TwitterFacebook
Compiled by Glenda Willie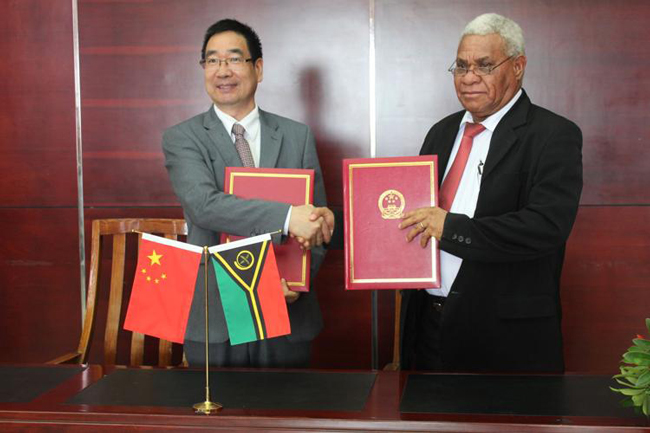 Prime Minister Bob Loughman and the Ambassador of China to Vanuatu, Zhou Haicheng, signed a Vt1.3 billion bilateral grant agreement on Economic and Technical Cooperation yesterday morning.
Speaking at the occasion, PM Loughman said the goal of the government is "to use this bilateral grant wisely to address critical development needs of our citizens in rural and in remote islands of Vanuatu".
He added, "My government strongly believes that to alleviate poverty and improve wellbeing of our citizens in rural areas, it is important that we empower our citizens to develop their lands and participate in building wealth of this nation."
The Prime Minister stated that the government's policy focus is more on the productive sectors, infrastructure, financial sector and human resources development as catalyst for empowering citizens to participate meaningfully in the creation of the country's national wealth.
PM Loughman acknowledged the signing ceremony was truly a sign of a strong relationship which spans many decades.
"As the Prime Minister of Vanuatu, I would like to express on behalf of my government and the People of Vanuatu our sincere appreciation to the Government of the People's Republic of China for the ongoing support and increased assistance to Vanuatu over the years, which has immensely contributed to the socio-economic development of this country.
"COVID-19 has brought many challenges to our beautiful island nation.
"It is in these challenging times that we can test the strength of our relationship.
"China proved to be a true friend, assisting with national preparedness against COVID-19, through the provision of medical supplies and hospital equipment.
"This is in addition to assisting with and pledging to support with national relief and recovery efforts in the aftermath of TC Harold," the PM said.
Chinese Ambassador Zhou stressed that this latest assistance reaffirms China's dedication to providing assistance with Vanuatu's economic and social development to the utmost of its capability.
Under the new Agreement on Economic and Technical Cooperation, China will deliver more resilient projects to Vanuatu, based on Vanuatu's own needs, and in alignment with its national strategy, to help with Vanuatu's transition to the developing country status.