Meet the Lapita people
July 1, 2016 3:03 pm | Posted in Business Profiles | Share now TwitterFacebook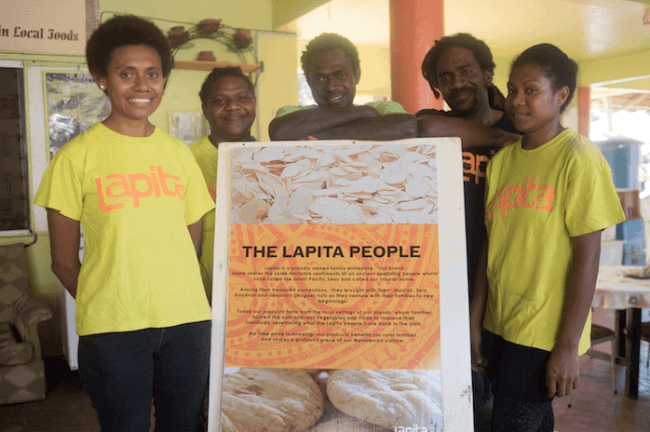 The Lapita Café began processing and selling homemade chips made from island kaekae over a decade ago from a makeshift outdoor kitchen outside the home of a wide-eyed visionary – Votausi Mackenzie-Ruer, who decided to 'stand up from the crowd' by starting a business of her own.
The decision to capitalise on local root-crops by transforming them into a savoury snack was hatched 16 years ago after Mrs Mackenzie-Ruer's contract at the USP cafeteria approached expiry, says co-worker and supervisor of Lapita Café Marion Ishmael.
The supervisor from Santo who worked behind the counter at USP with Mrs Mackenzie-Ruer explained that her colleague always wanted more and after USP she decided to take matters into her own hands.
"It was a dream by Mrs MackenzieRuer. It took years—almost 5 years to be exact—with numerous taste tests until we finally perfected it. The chips and the cookies are all original recipes by Mrs MackenzieRuer," the supervisor says.
The author of this success story was away in Santo when we reached them. She mandated her co-worker of 21 years and trusted friend to tell their story.
During the interview Ms Ishmael recalled that the highlight of the business was when they secured Air Vanuatu under their clientele in 2007 which sky-rocketed their sales, "We sold 2000 packets of chips to Air Vanuatu every week."
Unfortunately the dynamic duo became a victim of their own success. According to Ms Ishmael the orders of the tantalizing island chips ceased.
The year 2007 may not have won them the business of the year award however Ms Ishmael stated that the several Hotels and the Au Bon Marché Supermarket branches kept the business afloat since then.
Fortune favours the brave, and it carried the Lapita Café forward through the years but when disaster in May 2015 the business took a turn for the worse: From an annual return of approximately VT 4 mil in the beginning of the business to less than half after Tropical Cyclone Pam.
"Right now our biggest supplier is Au Bon Marché supermarkets and resorts but now it has reduced a lot. We use to distribute around hundred packets of chips but now it has dropped to 25 packets and as we are speaking it continues to drop."
As farmers raised the prices of their crops in a desperate attempt to generate profit, the Lapita Café felt the full brunt of inflation.
"The price of the root-crops right now has been increased so much and lately we have been buying the root-crops per basket for VT 700 and for banana's it costs VT 1,000 per basket, and at the end of the day we are buying 5kg of rootcrops for roughly (VAT) $10,000 from the local market."
At this rate, shutting down the dream was a distinct prospect. The 11 employees working under the guiding hand of a woman who once had a dream were at risk. But after serious deliberation Lapita Café managed to once again survive the storm after regretfully dropping four staff members and producing a strategic plan to increase sales.
"We are thinking of taking a break of producing chips because it is not selling well and we are looking at our figures to see which one is more popular at the shops and we have found out that it is Taro. Mrs Mackenzie-Ruer is currently in Santo and according to her when she returns she will decide which root-crop to drop and which one to focus on."
With the last batch of taro, manioc and banana chips processed in January this year and cleared of the shelf Ms Ishmael declared that no more chips would be made until the boss decides which one needs to be focused on.
In the meantime the furnace still burns bright as the business that began selling island chips switches to Coconut, Cocoa and Nangae Nut pastries in response to the fluctuating market prices.
"We have no more chips and the only thing we have now is cookies. Resorts have been ordering cookies and now Air Vanuatu has started taking cookies as well this month."
The 38yr old supervisor also mentioned that their 100% gluten free manioc flour is one of their biggest commodity at the moment.
"We are only buying manioc for the floor production. We have found a manioc supplier for 60vatu per kilo. He suppliers 100- 150 kilos and we just buy it off him and we process it."
Ms Ishmael explained the processing technique which was "washing, slicing, drying, and then milling it which is grinding it into powder form and then packing it. The dryer is supplied by the Ministry of Agriculture and it is located in Teouma."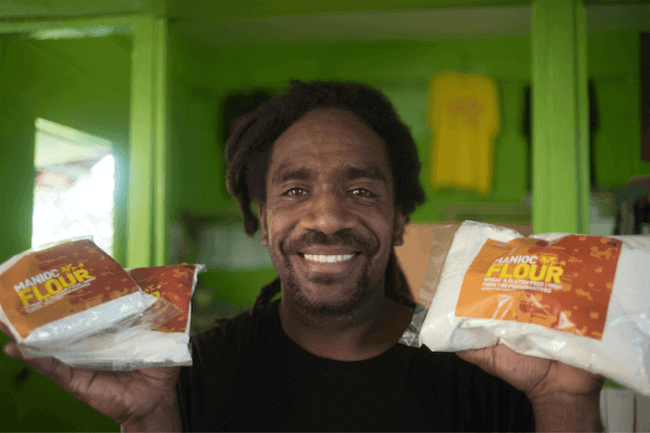 "The business can survive this if we focus on one root-crop. Our manioc flour is our main commodity that is selling. Every week people make orders and buy bulks of flour and cookies which they purchase on retail price."
On the brink of shutting down but the hard-work and determined spirit to continue to move forward in the business sector rescues the Lapita Café from the gauntlet every time they are faced with an obstacle that threatens the business.
Ms Ishmael who believes that the Lapita Café is far from done summed up the qualities needed to be a worthy competitor in today's rat-race: "The best advice is to never give up and in Vanuatu in order to start your business you need experience and determination."
Even though the chips may all be down for Lapita Café, Ms Ishmael remains confident that the best days of the local business are yet to come.