Vanuatu Business Review renews V-LAB sponsorship
April 24, 2021 4:54 pm | Posted in Business News | Share now TwitterFacebook
By Josepheen Tarianga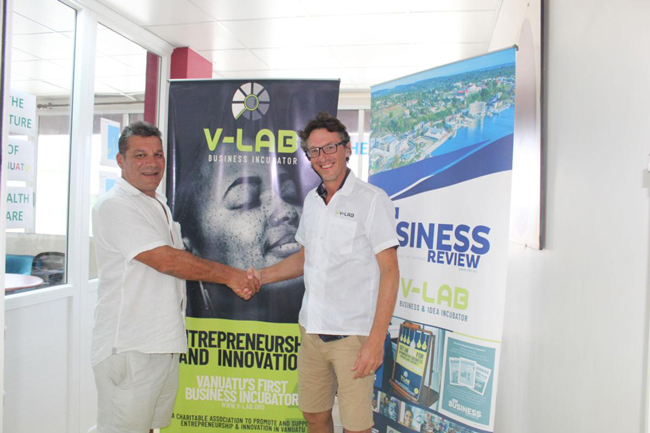 Vanuatu Business Review (VBR) is pleased to renew its sponsorship of V-LAB as of the 22nd of April, 2021. VBR is the only dedicated business publication for Vanuatu and is inserted free once month inside the Saturday issue of Daily Post. Additionally, VBR is also published online and backed up by an electronic mailing list to over 100 business professionals in Vanuatu. The VBR website has grown from strength to strength as the business link to the flagship site Daily Post online. The Daily Post digital network receives over 600,000 page views per month.
V-LAB is a charitable Association created to support innovation and social entrepreneurship in Vanuatu. Working hand in hand with Yumiwork, Port Vila's first co-working space, V-LAB seeks to provide access to facilities, services and mentoring to the young entrepreneurs in Vanuatu with a view to enable them to develop and grow their businesses and ideas as well as to promote entrepreneurship in the country.
The sponsorship agreement was signed at an impromptu presentation. Vanuatu Media Marketing Director of Business Development Peter Stadly had presented V-LAB with a banner to show the partnership between the two businesses and signed the official documents with V-LAB President, Marc Antoine.
The sponsorship agreement provides V-Lab with a million Vatu of advertising across the entire Vanuatu Media Marketing (VMM) advertising portfolio. The VMM advertising product portfolio includes print, radio, digital and Out of House with a network of six LED billboards. A large part of this advertising will be used to promote the young V-Lab entrepreneurs start-up businesses.
Mr Antoine said V-LAB is very excited to have VBR as one of its top sponsors for the 2nd year. He thanked VMM for the sponsorship. V-LAB and the entrepreneurs that it is training and supporting will benefit greatly from the visibility that VMM provides through different media.
Marc added, "In today's world where communication is key, our partnership with VBR provides V-LAB and its incubees a unique and fantastic opportunity for promoting their work."
Peter Stadly said we are pleased to renew our sponsorship with V-Lab as we see strong synergies between VBR and V-LAB. He added "The young V-Lab entrepreneurs will be tomorrow's readers and advertisers".