Idea Association Digital Showcase
April 24, 2021 3:12 pm | Posted in Business News | Share now TwitterFacebook
By Josepheen Tarianga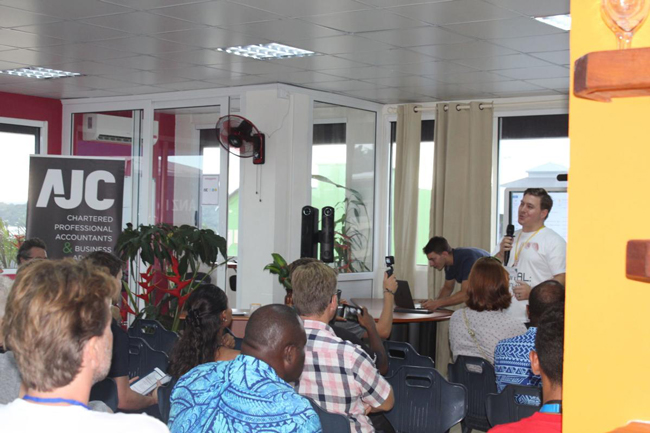 The Innovation and Digital Economy Association (Idea) with Yumi Work Vanuatu has taken a big step towards digital transformation for the people and businesses.
On the 22nd of April, Yumi Work hosted a Digital showcase for several businesses with digital components to present their technological aspects. Businesses in attendance of the showcase were Ricoh, Navit communications, Single window, PDT consulting, Raise Vanuatu, Salem Nomo, Tasinga, Vanuatu Brewery Limited, VBL Media, VIT, Vodafone, Xero, Digicel, Bred Bank and AJC.
Some businesses presented their new big ideas, some presented new digital features while others showcased software that plays an essential role in their businesses, from 3-D printers to online payments and free advertisements sites. Digital innovation was once overlooked because of lack of understanding but has found its place as each presentation bringing an exciting new prospect.
All these presentations were accompanied by an explanation of the purpose and the use of these digital components, why they are necessary to the business and how they can be utilized by other people as well as businesses. Most of the demonstrations illustrated how to use and manoeuvre the digital platform.
Yumi Work believes that Vanuatu is ready to use more digital solutions. The idea association recognizes that this digital transformation can only be achieved by business environments adopting more structure, that is the purpose of the idea association.
After the exciting presentations a round table discussion was held. Sitting on the discussion panel were several experienced and knowledgeable people with different work backgrounds, ideas, opinions and experiences with technology. The panel was made up of: Marc Gérard — president of the Idea association, Tony Crétier — Director of VBL Media, Jean Pierre Nirua — Vice Chancellor of the National University of Vanuatu, Barlen Lutchmoodoo — CEO of Vodafone Vanuatu, Philippe Noirot — Deputy Director of Bred Bank Vanuatu, Martin St Hilaire — Managing Partner at AJC Vanuatu and James Rory — Vice president of the Idea association.
The discussion focused on digital readiness and the multiple factors associated with its environments.
Jean Pierre Nirua had shared his experience with technology during the discussion saying it is a must to train the population to use technology, breach the gap (between digitally literate people and non-digitally literate people). A typical Ni-van client will not trust digitalized services offered by banks. How can banks assure people that their information is safe?
Further into the discussion, Martin St Hilaire shares that if things are digitalized a lot of things will move faster and be more transparent, resulting in people trusting the government and its processes more.
Such things like filing an application, a work permit, the health system or applying for a driver's license can all be digitalized. This will greatly help the environment, as the community will be saving plastic and paper by digitalizing these documents instead of making hard copies.
Mr. Hilaire added, "we do not have to make the oceans dirty before we start cleaning them".
The discussion brought up solutions as well as more questions where digitalizing is concerned.