Vila Marine signs Contract for Rollout of Boats under 70/30 Subsidy
January 22, 2022 1:25 am | Posted in Business News | Share now TwitterFacebook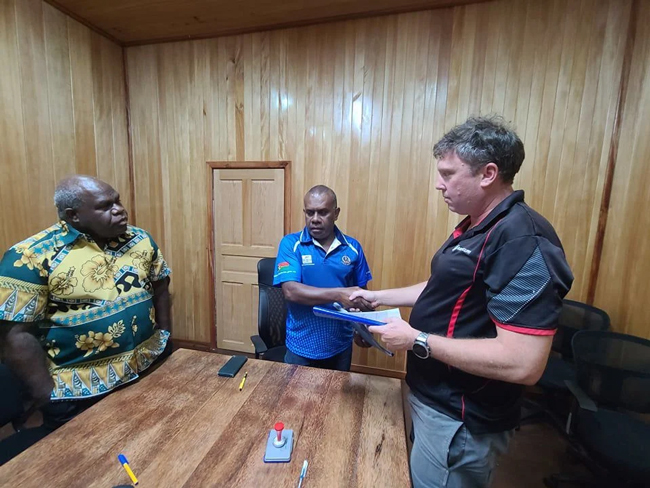 In response to the ongoing economic shocks of COVID-19 and the impact of severely reduced tourism-based income, the Vanuatu Government announced a plan for subsidies to qualified Ni Vanuatu fisherman and farmers through the Ministry of Agriculture, Livestock, Forestry, Fisheries and Biosecurity (MALFFB) in 2021.
The 70/30 scheme involves the Government providing 70% of the purchase price for agricultural and marine equipment for suitable candidates.
The farmer or fisherman then only needs to provide 30% of the purchase price. This scheme has obvious benefits in terms of stimulating the rural economies of Vanuatu during the global pandemic by empowering Ni Vanuatu with the tools to live sustainably off the land and sea.
The first 18 boats for 70/30 subsidy were put to an official tender process late last year and Vila Marine was proud to be selected as the supplier.
The official signing was made with the Minister of MALFFB Willie Daniel on Wednesday the 13th of January, 2022.
Vila Marines fiberglass boats are now overwhelmingly the preferred choice of fisherman and transport operators throughout Vanuatu and this is evident based on the fisherman choosing a Vila Marine boat during initial applications from candidates of the 70/30 scheme.
The boats that Vila Marine meet the strict criteria set by the Government in terms of hull construction and safety. All our boats are constructed using only composite materials with no wood that will rot when wet.
Unlike other manufactures in Vanuatu our boats are made using the latest in lightweight matts and cores while using vinyl ester resins which are specifically designed for use in a saltwater environment.
Other manufacturers in Vanuatu and around The South Pacific only use Polyester resin which over time can lead to osmosis (Fiberglass rot). This is because Polyester resin is cheaper however Vila Marine can offer a competitively priced boat using only top-quality vinyl ester resins.
This all results in a stronger and lighter boat that rides significantly better in rough conditions and consumes less fuel. Safety is provided through electrical power to the vessel with a solar panel on the front cabin.
This allows us to fit lights and electronics such as a GPS/Fishfinder which no other manufacturer can do currently in Vanuatu. Also, each boat will be supplied with an OMR approved list of safety equipment, especially Solas approved life jackets that come with a water activating light and a whistle.
In addition, the boats are 100% buoyant even if swamped with water and are also equipped with lifesaving ropes on either side should by accident the boat be capsized.
In an emergency situation the passengers can hold on to these ropes until rescue arrives no other boats in Vanuatu currently have these safety features.
As there are significant delays with manufacturing around the world, Vila Marine prides themselves on delivering orders within only weeks from the time of purchase.
Other manufacturers not just in Vanuatu but around the world now have an 8-12 month waiting period on new boats once ordered. Vila Marine has constructed over 1500m2 of building to build quality Vanuatu made fiberglass boats to Australian/New Zealand standards.
The commitment continues into this year with more manufacturing space, more moulds and further investment in time saving equipment such as state of the art spray guns for painting and chopper guns for quicker lay-up.
We continue to reinvest in plant, equipment and our 20 plus Ni Vanuatu staff in order to provide a world class quality product on time and on budget. All staff have only best in high quality PPE, clothing, masks and safety boots.
Finally, Vila Marine is the only boat building company in The South Pacific with a sustainable business plan. Already the current factory is powered by renewable energy in the form of grid tie solar which reduces the need for using dirty fossil fuel-based power provided by Unelco with reductions of around 75%.
By the end of 2022, all boats will be constructed in a 100% green factory that is powered entirely by solar with battery storage as well. There will also be an in-house acetone recycling machine to significantly reduce the need for the disposal of waste chemicals. This will drive us to long-term cost savings and reduced environmental impact.
Vila Marine looks forward in continuing to help support the growth of the agricultural and fisheries sectors in partnership with the Vanuatu Government now and into the future.