Locally Owned Business Booms
June 16, 2016 10:30 am | Posted in Business Profiles | Share now TwitterFacebook
JPO Investment Limited strives to be the best Kava suppliers in Vanuatu
Price of Kava
Local kava farmers in Pentecost, Malekula and Ambae are now receiving more for each kg of kava since JPO Investment Limited raised the price from (VAT) $150 per kg to (VAT) $500 per kg.
The ripple effect of this price influx is largely felt by other kava providers such as middlemen who buy kava from the islands and are forced to raise their prices to Nakamals in Port Vila in order to make a profit.
"Now the middle man providing kava in Port Vila are raising their prices as well to make a profit and all the small nakamals are being affected," JPO General Manager Chanel Takasi explained.
According to Mr Takasi the reason for the extreme price hike of (VAT) $350 was to provide farmers with just payment for their equally hard work and simultaneously eliminate competition in the process.
"Our plan is to get our boats in and then finally raise the price up to (VAT) $1000 per kilo to eliminate the competition since there are so many middlemen in the capital.
We are bringing in 150 bags of kava with around about 50 kilo of kava per bag. We have agents on the island and they tell us how much kava is ready and then we buy it off," he said.
With increasing the price of kava and establishing an open communication system with personnel from each of the islands, JPO Investment Limited will not be running short of Kava any time soon.
Processing of Kava for Export and Local Nakamals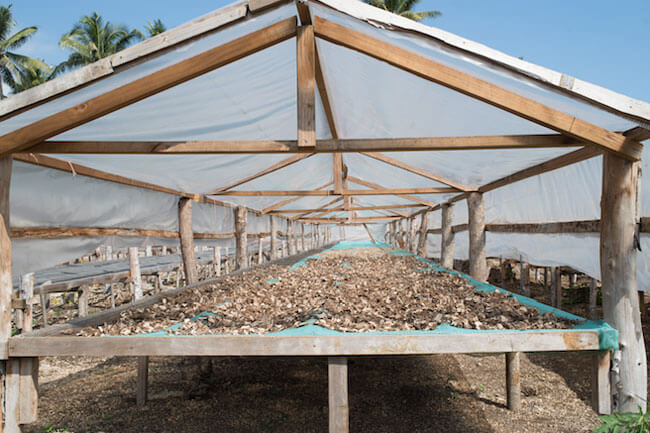 However purchasing the kava is just the first step to number of other techniques in order to achieve that iconic taste.
Mr Takasi who happens to be an expert in the kava industry explained that the kava are usually classified separately depending on their age.
"If it 6 years and above it is put aside for export but if the kava is at 3 years its potency is strong but as it gets older it loses its effectiveness. The best kava to drink at nakamals is 3-5 year old."
With this extensive knowledge on kava Mr Takasi added, "So that's why the mix is always the same and it never changes."
Mr Takasi then explained in detail the two are processed separately and the steps taken to extract the best out of the plant.
"We bring the kava in, double check the weight and then all the workers will then skin the kava and place it in a big dish for one night submerged in water which will extract the oils which are considered bad for consumption.
"Then the kava pieces are then dried out in the sun for a week and once it is ready it is packed and ready for export."
As for the green kava the workers skin it, chop it up, and taken to the machine for grinding. The preparation for the green kava that has become the recreational drug of Vanuatu maybe as brute as the taste but as long as it's fresh it is ready to quench the thirst of the people.
Business in Port Vila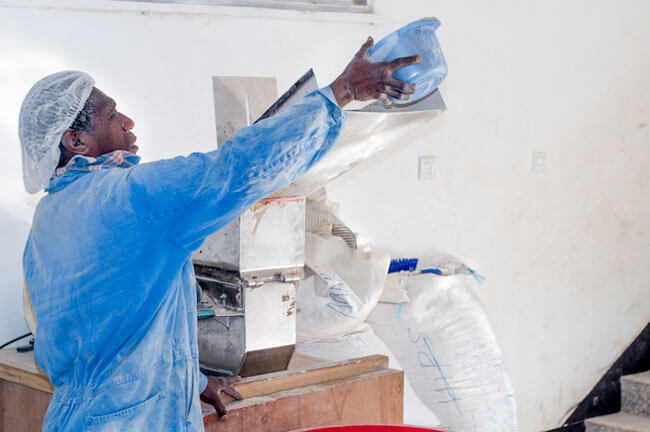 "Our nakamals, we sell a big quantity in a day. One 20 liter is 7 kilos of kava. We make (VAT) $7000 per 20 kilo which is an additional 500 vatu for every kilo we buy from the farmers," the General Manager of JPO said.
With over 50 Nakamals in Port Vila, JPO Investments has established loyal customers who purchase green kava from them on a regular basis.
"Now we have 14 nakamals and the three biggest ones receive 2 buckets each. In a day we make (VAT) $119,000 on green kava juice alone every day from Sunday to Sunday but on Friday and Saturday we must have 400 kilos because a lot of people drink kava on these days which provides us with a return of (VAT) $140,000 and on the weekday it is 250 kilos300kilos."
Mr Takasi added that they are looking at providing green kava juice to more nakamal owners throughout the year – "Our exposure is increasing because we advertise our product. Last Friday we were very busy, we sold 28 buckets of 20 liters of kava with (VAT) $7000 per bucket of green kava juice in which we made (VAT) $196,000."
Employees of JPO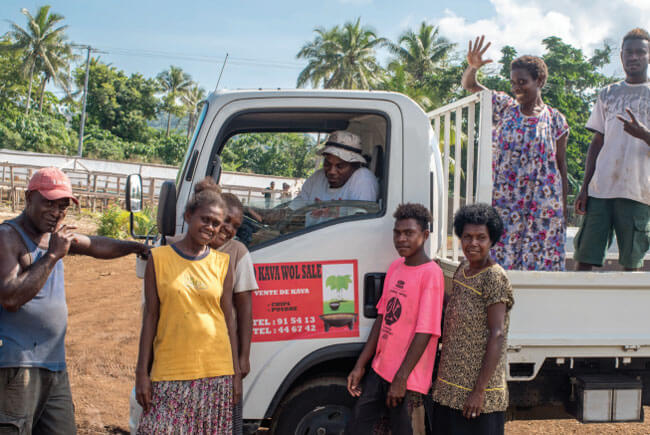 As the demand of the green juice increases the supply remains at a steady pace and Mr Takasi believes that in the long term this consistency will make them main suppliers of Kava in Port Vila and Vanuatu.
As the supply and demand of Kava exponentially increases, the right amount of labor is needed as well to keep the giant green wheels turning.
As the kava increases so does the labor says Mr Takasi: "We usually have over a 100 workers when there is a lot of kava. We have workers on standby."
"When we have a big shipment of kava our truck collects momma's from around Teuma who are employed by JPO as daily workers."
"We pay the mommas (VAT) $2000 per day and on a big day we hire over 100 mommas and at times they are working for a week so we are spending over (VAT) $200,000 a day and over a million vatu a week alone on labor."
Many hands make light work and this locally owned business isn't shying away from hiring more employees if the work load demands it – "We employ people, that's what we do."