VNPF COLLECTS VT2B CONTRIBUTION, VT1B REVENUE
January 22, 2022 11:29 pm | Posted in Business News | Share now TwitterFacebook
By Anita Roberts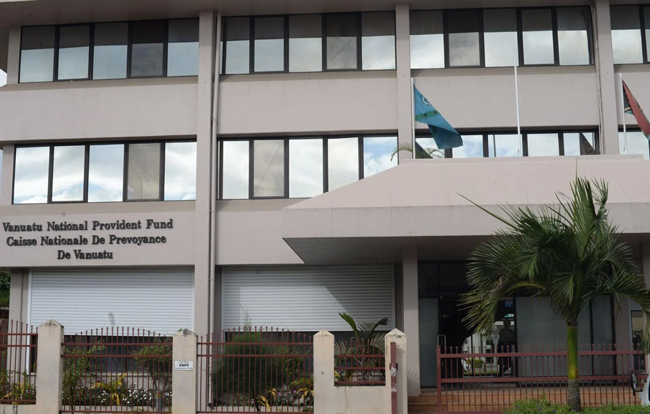 The Vanuatu National Provident Fund (VNPF) has collected over VT2.5 billion from contributions and over VT1 billion in revenue last year.
Contributions came from registered employers while revenue is generated from investments. General Manager (GM) of VNPF, Parmod Achary, said the Fund could not collected more contributions due to COVID-19.
"By now we (VNPF) should be collecting up to VT3 billion in contributions. Unfortunately, because of COVID-19 are still struggling between VT2 to VT3 billion for the last few years," he said.
The contributions generated by VNPF in 2020 and 2019 was VT2.3 billion. The contributions for 2018 was VT2.2 billion, VT1.8 billion in 2017 and VT1.6 billion
GM Achary said VNPF is projecting an increase in revenue this year and the next years, as it is now focussing on quality investment.
As of last year, VNPF has 86, 924 active members. Almost 4, 000 employers were registered with VNPF from 2016 to 2021.
A total of 701 employers were registered last year, 1, 259 in 2020, 1, 190 in 2019, 990 in 2018, 282 in 2017 and 271 in the previous years.
In the month of December alone last year, 559 members were registered in Port Vila, Santo, Tanna and Lakatoro in Malekula.
Apart from the formal sector, VNPF continues to extend coverage into the informal sector, which comprises majority of the population and they lack social protection. According to GM Achary, over 3, 000 informal members were registered last year.
VNPF is the only retirement fund in the Pacific that allows for seasonal workers to open accounts and contribute to the fund. The number of informal workers, mainly domestic workers, market vendors and farmers is increasing.
VNPF begun extending services into the informal sector few years ago. Since establishment, informal workers were not covered, only formal workers.
The majority of Vanuatu's workforce is in the informal sector and have no access to social protection. A lack of social protection is an obstacle to achieving the Sustainable Development Goals on ending poverty, inequality and improving healthy lives and well-being.
According to the International Labor Organisation (ILO) supported Vanuatu workers rapid assessment on the impact of COVID-19 and TC Harold in 2020, the share of workers employed in the informal economy was 66.9%.
ILO is providing financial and technical assistance to support VNPF with the deployment of digital platforms for the informal sector.
Digital platforms for informal workers to access VNPF services have been launched with Vodafone, Digicel, Bred Bank and also Vanuatu Post.