TVET looks towards inclusivity
May 17, 2022 10:55 pm | Posted in Business News | Share now TwitterFacebook
By Josepheen Tiaranga.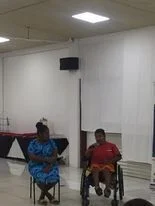 Today APTC hosts a forum with its partners and stakeholders as it aims to establish inclusivity in Technical and Vocational Education and Training (TVET).
The forum aims to identify where different partners are in terms of inclusion and what is being implemented.
These areas need strengthening, areas of challenges and it highlights a need for more collaboration between partners to achieve inclusion.
"We cannot achieve inclusion alone. If we want to make TVET inclusive, we must recognize that inclusion must be done with the effort of others as well" says Judith Iakawai, a representative of the Vanuatu Society Of people with Disabilities (VSPD).