Vanuatu's inaugural Commerce Strategy and Roadmap launched
May 17, 2022 11:07 pm | Posted in Business News | Share now TwitterFacebook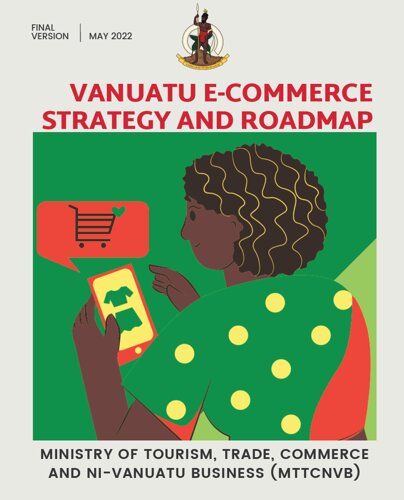 Tuesday, May 17 2022 marked another milestone for Vanuatu as Minister James Bule officially launched the first ever E-Commerce Strategy and Roadmap, on behalf of the Vanuatu Government.
The launching occurred during the Information and Communications Technology (ICT) Day celebrations at the Chiefs Nakamal, Malvatumauri Council of Chiefs in Port Vila.
"With this strategy, we want to make sure that Vanuatu is strategically ready and radically change the nature of doing business in the country, not only to be ready but to improve the processes overtime and incrementally add value to business," he said.
"It is critical to continue and enhance the existing dialogue on Vanuatu's digital transformation with public, private sector, Civil Society Organizations (CSOs) and donor partners, to make sure that everyone benefits from it. This is what we achieved with the readiness assessment Report back in 2018, and this E-Commerce strategy."
The present strategy is aimed at supporting Vanuatu's efforts to address e-commerce challenges identified in the last two years and leverage additional resources from the Government and development partners to accelerate e-commerce adoption, increase digital readiness and, in fine, support Vanuatu's economic transformation. Vanuatu has yet to take advantage of the e-commerce potential.
The country could benefit substantially from e-commerce if it is able to accelerate the adoption of key measures aimed at supporting the development of an e-commerce ecosystem (e.g. digital economy strategy, enhanced regulatory framework) and private sector investments (in skills and access to finance).
Among other benefits, e-commerce can fuel development of the tourism and professional services sectors, attract Foreign Direct Investment (FDI), and increase employment in Vanuatu, thus limiting the structural brain drain.
"Every ship needs crew members to ensure the safe arrival of all passengers," Minister Bule said.
As Minister responsible for the Ministry of Tourism, Trade, Commerce and Ni-Vanuatu Business (MTTCNVB), he also officially appointed the first ever Vanuatu National E-Commerce Committee to ensure the implementation of the Vanuatu National E-Commerce Strategy and Roadmap.
The Committee comprises the Directors General (DGs) of the MTTCNVB, Finance, Infrastructure, Agriculture, Chief Executive Officer (CEO) of the Vanuatu Post Limited, Government Chief Information Officer, Directors from the Departments of Customs and Foreign Affairs, Reserve Bank Governor, Telecommunications Radiocommunications and Broadcasting Regulator, General Manager of the Vanuatu Chamber of Commerce, and CEO of the Vanuatu Tourism Office.