Titan FX celebrates expansion in Vanuatu
September 25, 2021 11:49 pm | Posted in Business News | Share now TwitterFacebook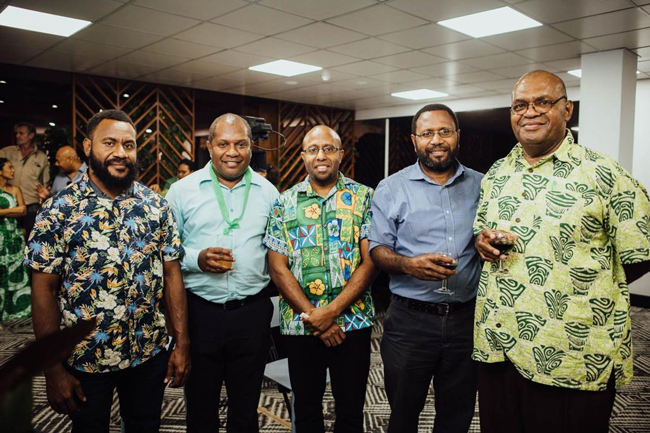 On Wednesday this week, the Government and private sector gathered at Lolam House to discover Titan FX's tastily redesigned offices. After 4 years of rapid growth, it was an opportunity for the team members to properly introduce the company to the community, explain what fintech is all about, and share their vision for the economy.
Martin St-Hilaire, Managing Director said Titan FX is the first online broker physically based and operating in Vanuatu, and he hoped there will be more just like us. "We can say with pride that Titan FX started a whole new industry, the fintech industry, and we are confident it will grow. Fintech offers different kinds of jobs than other service industries like tourism. We widen the range of possibilities for current and future graduates here in Vanuatu," St-Hilaire said.
The Finance Manager of Titan FX, Justine Pikioune, further stated, "In just four years we've built a strong team of fintech experts in Port Vila. Most of us are native Ni-Vanuatu, others are either naturalized citizens or high-skilled foreign workers. This is our Global Headquarters and many functions are managed from here which include Finance & Accounting, Business Analysis, Compliance & Legal, and soon a full IT team.
"Whenever there's something we can't do here, we hire service providers online. Every day we work with people in Australia, the UK, the US, Singapore, Japan, Vietnam, Israel, Lithuania. We are also spread across Vanuathwiht one colleague, Kevin Tari, who works remotely from his home using a Kacific dish.
"It's easy to collaborate across continents and cultures. Firstly, because we do everything with online software (the cloud), and also because we share the same values of teamwork, creativity, and continuous improvement. This culture is nurtured from here in Port Vila."
"Titan FX provides an online trading platform that allows people to speculate on the fluctuation of the price of various currencies, commodities, or company stocks. Our customers use our platform to buy and sell Contracts For Difference; they are a way of making short term trades without actually holding the currencies, commodities or stocks. We make money by charging a very small commission on every Buy and every Sell," these were the remarks of Aurellia Karié, Business Analyst of the company.
"It's a niche market. But it's a global market. Some estimate that about 3,000 companies like us exist worldwide and they serve about 10,000,000 customers.
"In 2021, Titan FX averaged 5,000 customers placing 100,000 orders every single day on our main platform.
"Since Titan FX started in 2014, we have been recognized in our industry as an honest, efficient, and reliable online broker, with outstanding customer support.
"Our main competitors are spread globally and they target the same global clientele as us through the Internet. As we have access to the same cloud-based technology, we are not disadvantaged despite being physically far from the main active market."
Donna Titi, Head of Compliance said it wasn't always the case, but today Vanuatu has a regulatory framework that's both flexible for financial traders and very tough for financial criminals. That's a good thing if one wants to see more businesses like Titan FX grow the local fintech sector.
"Our compliance team is already the biggest in Vanuatu, and we will keep growing. Our job is to make sure Titan FX adheres to all domestic and international regulations," Titi stressed.
She continued, "As one of the 126 financial dealers licensed by the Financial Services Commission, we must report to the Financial Intelligence Unit and we are subject to Vanuatu's AML-CFT Act. "And we need to meet the international requirements in the global fight against money laundering and the financing of terrorism – also called AML-CFT.
"It's important to note that our service is limited to online trading and nothing else; we do not give financial advice, nor allow the transfer of funds between parties.
"This makes Titan FX much less at risk to be used by financial criminals than traditional financial institutions that are processing payment and facilitating inward and outward transactions with third parties."
James Hudson, General Manager said because Titan FX serves a global clientele, 100% of their proceeds come from abroad and "we can say with confidence that we bring wealth to Vanuatu."
Hudson continued, "We are investing part of our profits here. Titan FX sponsors many community initiatives in five strategic areas: Sports, Health, Education, Civic life, and Entrepreneurship. One of our biggest projects is to set up a computer coding school using a concept called CodeBoxx. It's a 16-week Bootcamp to learn all the important basics with experienced teachers. After that, the students can complete their training and start a career in IT, some with Titan FX.
"We want to keep doing more and more for the community, not only because it's our duty as responsible corporate citizens but also because this is where we live with our families."
Martin St-Hilaire, Managing Director highlighted that Titan FX is the living proof that a local business can compete and win on the global stage in a cutting-edge industry. Our local operating expenses are about 200 million per year.
"Now, imagine if there were 5 or 10 more fintech companies like ours combined spending would have a huge multiplier effect on the local economy.
"It would provide world-class work experience to young Ni-Vanuatu graduates. Those who study abroad will be able to come back and start a fintech career here. And ten years later, they will have enough experience to train the next generation. And that's how you create a whole new industry that's competing on the world stage.
"Titan FX embodies what can happen when the private sector, the regulators and the government work together collaboratively. We must keep going. When we work together, we can help move Vanuatu forward."