VT992M South Tanna Road Phase III
September 25, 2021 11:52 pm | Posted in Business News | Share now TwitterFacebook
By Anita Roberts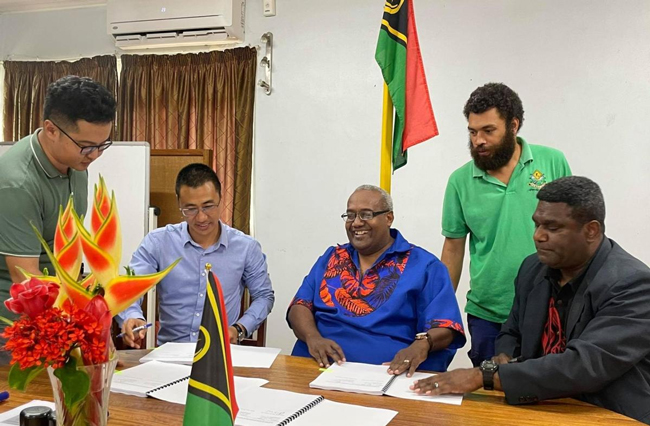 The construction of the 12km South Tanna Road Phase III, starting from where the second phase ended to Manuapen area, will now commence by the China Civil Engineering Construction Corporation (CCECC) at a cost of VT992 million.
Construction works are expected to be complete after two years.
The Minister of Infrastructure and Public Utilities (MIPU), Jay Ngwele, the Minister of Finance, Johnny Koanapo and the Managing Director of CCECC, Liang Qing, signed the agreement for works to start yesterday.
CCECC has been granted with the contract through Competitive Open Tender.
CCECC was also awarded with direct contract to upgrade the 3km road from Smet Area to the Port Vila Airport at the cost of VT318 million.
The signing agreement for this road network upgrade also happened yesterday. The road will be upgraded with asphalt.
CCECC is expected to complete works in one year.
The Council of Ministers (COM) agreed for the tender of the design and construction of the south Tanna road phase III early this year.
COM endorsed that supervisory, engineering and managerial roles are to be performed by the government through MIPU or any sub-contracted company.
Minister Koanapo said the Ministry of Infrastructure and Public Utilities (MIPU) and the Ministry of Finance and Economic Management (MoFEM) are negotiating for the Malekula Road Phase III.
CCECC is the main contractor for the Tanna Malekula Road Project which begin in 2015 under the Vanuatu Road Rehabilitation and Reconstruction Project.
The Vanuatu Government, with the support of donor partners is committed to securing funds for essential infrastructure projects, said Koanapo.
The government is faithful in repaying its project loans despite the current COVID-19 crisis, he added. The Tanna Malekula Road Projects are funded through loan arrangements.
Other major road projects in Vanuatu include the Pentecost Road being constructed by CCECC and South Santo Road now in its design phase.
He said the rollout of these projects are development milestones of the current which has reached its one year and five months in power.
He thanked the hardworking staff of MIPU and the Public Works Department (PWD) for their efforts in delivering the projects.
CCECC Managing Director Liang thanked the government for trusting the company to deliver the South Tanna Road Phase III.
"We (CCECC) have been here for many years and we have a good relationship with the government and people," he said.
"I assure we will continue to support the country's development and play our social responsibility to the society. Through these projects, we will be providing employment opportunities to the local people."