South Sea Cargo welcomes new addition to fleet
July 20, 2021 12:22 am | Posted in Business News | Share now TwitterFacebook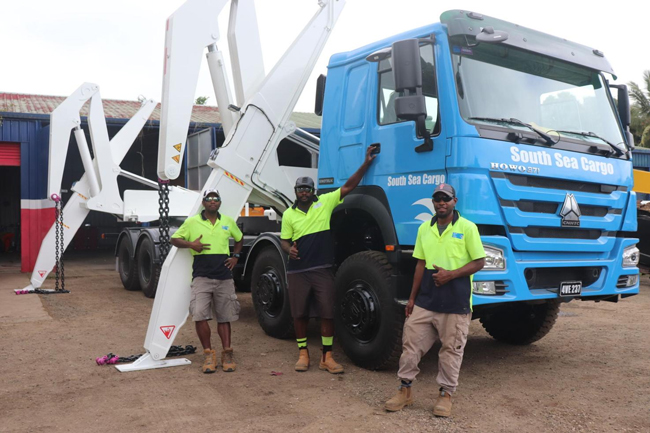 South Sea Cargo (SSC), with its commitment to supporting Inter Island Logistics, has welcomed a new addition to its fleet.
"South Sea Cargo began operations about 18 months ago as a start-up to support our Outer Island Communities by improving supply chain solutions, and we're now operating 3 x Side Lifters, 1 x Ice Box Truck and 3 x Forklifts, it's been a crazy ride with a lot of hard work.
"We started right before COVID hit and it's been a challenging journey to be able to keep running and providing container movements throughout the islands. What we're trying to do is commercialize the supply chain, getting products more cost effectively to and from the Outer Islands and also support our Agricultural Producers getting their products to market.
"If we can increase containerized goods we can also build more export opportunities, via both IPDS and NISCOL operations as well. To date, we have touched 12 of the 83 Islands with Containers from Tafea to Torba, ranging from Project Support to General Cargo Operations and we currently do regular runs to Tanna, Port Vila, Malakula and Santo, but let us know if you've got freight because we have a Landing Craft and other barges as well," says SSC Manager, Anthony Tonner.
SSC Director John Tonner, adds the arrival of this latest truck in the fleet comes at a critical time for the company.
"With the National Economic Recovery Plan focused on the Agricultural Sector, the Team is running hard to support the efforts by Producers to increase production and marketability of their crops," he says.
"The Vanuatu Government has assisted our latest investment expansion with Import Duty Exemptions and that'll directly assist supply chain solutions to the Outer Islands.
"Safety and Environment are very important to our organisation and by utilizing the containers we are also moving Diesel Fuel and other Bulk Products safely and with greater environmental protection. We're in this for the long run so providing improved cost-effective services to remote communities and protecting our Island Paradise are foundation objectives of our everyday focus.
"Steelbro, a container handling company in New Zealand, have also been vital empowering us to achieve this expansion by supplying us with our latest truckmounted Sidelifter and have been with us through our journey from the beginning, and we still have a way to go yet. Steelbro were very supportive by tailor-making solutions to meet our needs and always going above and beyond to assist us, ensuring we can always rely not only on their products, but also on their service.
"One of South Sea Cargo's most adhered to rules is the safety of those working with and around us, and the greatest way in which we can ensure we achieve this is through the safety of our tools and equipment. Steelbro's truckmounted Sidelifter are exceptional and excel all our needs in being durable, efficient, and most importantly, safe.
SSC is excited for the new opportunities and ways of expansion that the truckmounted Sidelifter will help to provide for the operations throughout Port Vila and the outer islands of Vanuatu.