VNPF to turn former Club Vanuatu into Shopping Mall
July 24, 2021 10:48 pm | Posted in Business News | Share now TwitterFacebook
By Anita Roberts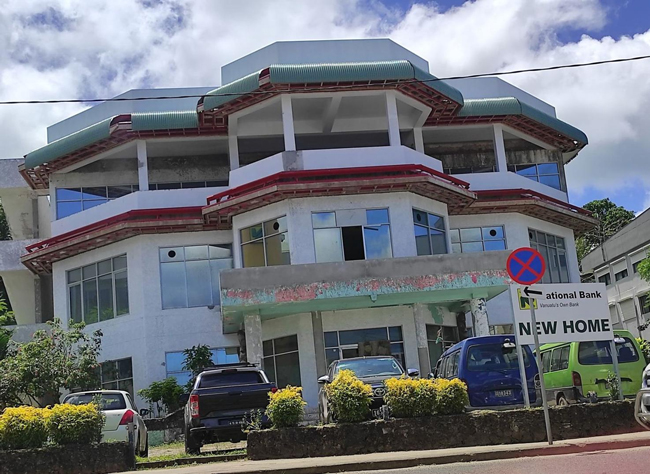 The Vanuatu National Provident Fund (VNPF) is looking at demolishing the former Club Vanuatu building in town and turning it into a shopping mall.
Last year, VNPF awarded Island Construction Ltd with a Vt80 million contract to undertake exterior renovations on the building.
The plan was for the National Bank of Vanuatu (NBV) to occupy the building once works are done.
However, works were later stopped due to structural issues which requires re-designing. The work was retendered and was supposed to be completed by another contractor but did not eventuate.
Several contractors bid for the project but their offers were too costly, said the General Manager (GM) of VNPF, Parmod Achary.
"We are looking at demolishing the existing building and then advertise for Expression of Interest for contractors to build a shopping mall or food court once the concept is approved by the board," he conveyed yesterday.
"VNPF has not been receiving any income from the property since it was purchased but money was spent on maintenance and security.
"We have to be careful as to what kind of investment we make out of the property. We are looking at the option of securing an anchored tenant."
GM Achary said VNPF is exploring other options of reviving the investment.
He said they will relook into the proposal of making the former Club Vanuatu become the new home for NBV.
Purchased at Vt300 million, former Club Vanuatu building is one of the handful of VNPF's failed investments. It has not been generating revenue since it was approved by the VNPF Board in 2013.
Reviving VNPF's failed investments to bring back lost funds owed to the members has been a main priority of the current VNPF management and board.
Other investments considered non-performing and / or under-performing by the Commission of Inquiry includes Wilco Properties, VNBR, Customs land- Koyama ,Pekoa Land, Nambatu Lagoon Property, Interchange Ltd, Egan Land and Banian Subdivision (Santo), Bouffa Limited, Milai Farm, Nasama Resort, CL Agencies, NBV Building and NBV Shareholding, Bouffa Ltd, SPOL Equity and SPOL Vanuatu Venture (Shark Bay) A few of them have been revived by the current VNPF Management and Board