Peace Corps Vanuatu backs national outbreak alert system campaign
December 21, 2021 1:26 am | Posted in Business News | Share now TwitterFacebook
By Germain Sam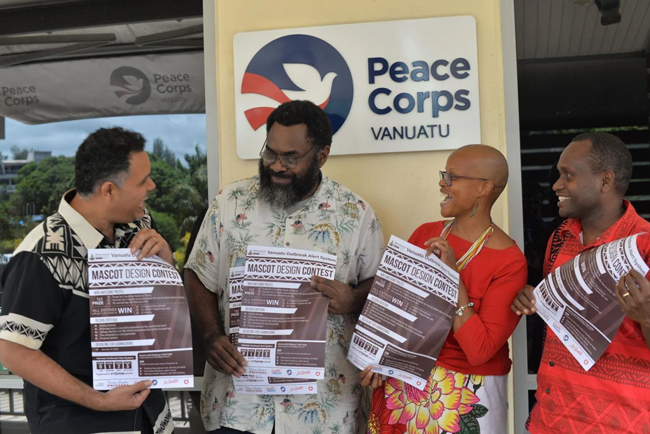 Peace Corps Vanuatu has organised a Mascot design contest as part of the Vanuatu outbreak alert system campaign.
Launched in August this year, the contest started early this month and will end on January 14, 2022.
Peace Corps Vanuatu Country Director, Penny Alexander, said they are willing to help the Ministry of Health promote the outbreak alert system across communities in Vanuatu.
Posters will be distributed to communities and radio stations will cover the campaign so everyone is aware of Vanuatu's alert system: level 0 is low, level 1 is medium, Level 2 is high and level 3 is very high.
Peace Corps Vanuatu invites all community members to take part in the competition because it will help them develop their creativity skills and also understand the importance of staying alert amidst the COVID-19 pandemic.
The Peace Corps Director has a message for the young people.
"It is an opportunity for you to show your creativity skills and it will also help each of you to improve these skills," she said.
The Mascot design contest criteria are simple, family-friendly, promotes awareness and preparation at the community level, utilizes the fonts for the VOAS (decorative font of the numbering), two dimensional and scannable and the last criteria is the original content.
The winner of the competition will win a ticket for two, to either Santo or Tanna, a Voucher for a 2-night accommodation for two, either on Santo or Tanna.
In addition, all entries will go in the draw to win a Digicel smartphone, VT5,000 Digicel top-ups and five T-shirts. The prizes are sponsored by Colorite Graphics Printers, Vanuatu Tourism Office, Peace Corps Vanuatu, Air Vanuatu and Digicel.