Ifira Trustees pays over VT14M Dividend to Gov't
December 21, 2021 1:31 am | Posted in Business News | Share now TwitterFacebook
By Kizzy Kalsakau and Jason Abel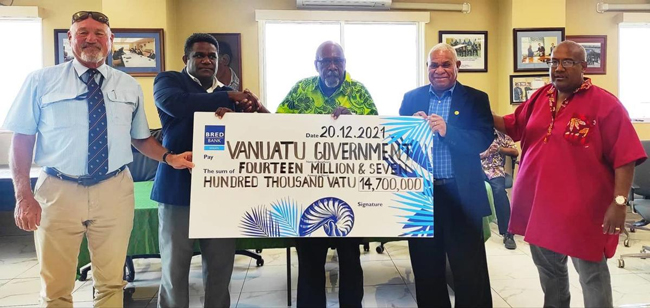 Ifira Trustees Limited (ITL) has handed a dividend of VT14.7 million to the Government.
The handing over at Lapetasi Wharf yesterday afternoon was witnessed by Prime Minister Bob Loughman, Finance Minister Johnny Koanapo, Public Utilities Minister Jay Ngwele, shareholders and Directors of ITL.
Chairman of ITL, Chief Mantoi Kalsakau III, reiterated on the progress of the company and the working relationship an indigenous company like ITL has with the government.
He also announced the dividend of VT14. 7 million to the government as the 49 percent share and 15.3 million to ITL.
"Vanuatu was affected in 2020, overall with the Gross Domestic Product (GDP) which dropped by 4% and other Pacific countries by 6.9%," he said.
"Despite the challenges faced, I am proud to present the 2021 financial report and also the handing over of its dividend to our shareholders.
"The total dividend paid out since 2014-2021 is VT215 million. Out of this amount, VT105,300,000 has been paid to the Vanuatu government, which holds 49% share in IPTS and VT109 million 600 paid to ITL which owns 51% share within Ifira Ports Development Services (IPDS).
"IPDS will payout VT30 million this year 2021. Last year 2020, we paid a dividend of VT25 million.
"Since 2008, we have paid over 1.6 billion in dividends, Christmas voucher grants, pensions for elders, medical and scholarships. We also had cyclone relief assistance and a stimulus grant of VT1 million.
The chairman elaborated on a few other financial and economical achievements for this year, namely the Luganville BP wharf recently handed over to the IPDS. He mentioned additional plans and projects to be addressed in the coming months, to sustain economic opportunities at hand.
There are plans to establish a new Ifira wharf, with a budget of VT80 million. There are ongoing discussions with the national government on this matter. He mentioned a new mall establishment also underway.
The chairman acknowledged the IPDS General Manager and staff, which reflected in the achievements this year.
He congratulated everyone for their outstanding leadership and wished them a merry Christmas and a prosperous new year 2022.
PM Loughman noted the hard work which paid off with this kind of dividend, despite the pandemic.
"Cooperation and hard work have resulted in these dividends," he said. "I acknowledge Ifira and its group of companies for their achievements. The government commends the ongoing partnership over the years.
"You have proven your capability in the operation of your companies, Chief Mantoi Kalsakau, as a demonstration to the whole of Vanuatu, especially under your leadership.
"You also supported education initiatives abroad, to ensure the company's sustainability in the near future. It is a good initiative for other companies to adapt to, and ensure continuous growth in the future.
"I thank the Ifira group of companies for honoring its shareholders in providing the 2021 dividends.
"This is the second time this government has come forward to receive its share, and we thank you."