Over 200 locals engaged in VT4 Billion VMF Project
May 27, 2022 11:14 pm | Posted in Business News | Share now TwitterFacebook
By Hilaire Bule.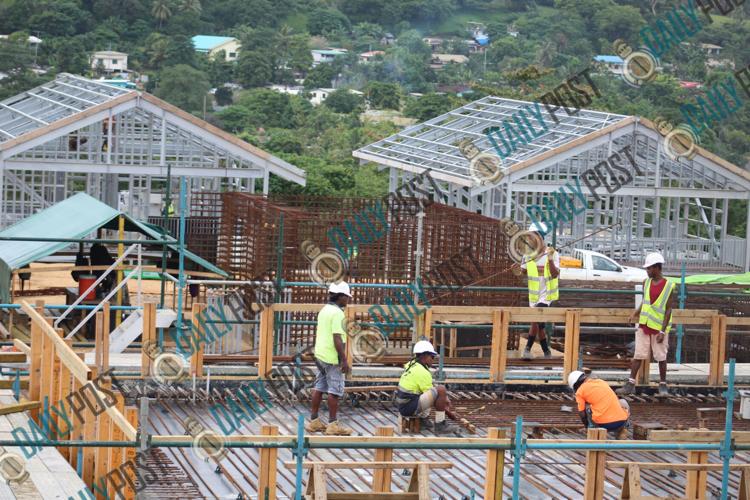 The Cook and Tiroas Barracks Redevelopment project reflects the growing relationship between Vanuatu and Australia.
Prime Minister Bob Loughman, who made the above comment, said the project valued at over VT4 billion is also assisting to upskill over 200 locals who are currently working on the site under Australian construction companies Icon and Reeves International, the head contractor for the project.
PM Loughman believes once the project is completed, they will go in the field with new skills.
Providing opportunities to upskill local workers is a key priority of the project. To date, this has included 392 local contractors completing the Construction Safety Induction Certificate at Australia Pacific Training Coalition (APTC), two local contractors completed the Cert III Plumbing course at VIT, two local contractor completed Cert III Carpentry Course at APTC, and 13 local contractors attending the Team Leader Skill Set course at APTC.
The project is also working closely with Department of Labour to identify opportunities for returning labour mobility workers with suitable skills to join the Cook and Tiroas Barracks Redevelopment workforce.
The PM lauded the large-scale infrastructure project delivering enhanced facilities to support the Vanuatu Police Force's growth and capability development.
"I believe that we have skilled people in the VMF," Loughman said.
He also praised the VMF officers for their hard work in all situations.
Loughman said the project is expected to open next year, after the handing over by the Australian Government to the Vanuatu Government. The PM acknowledged donor partners for their assistance to the country's development.
Deputy Prime Minister Ishmael Kalsakau described the redevelopment project as a "massive and fantastic development".
He acknowledged Icon-Reeves and local construction companies for using local materials.
Acting VMF Commander, Major Astrophile Merle, said the redeveloping project will look like a "small Heaven" once it is completed.
The Australian High Commissioner, Heidi Bootle, said so far over VT1.1 billion has been spent on the construction works. She said the project will strengthen the security partnership.
The construction begun in February this year. Currently, works are underway on new family accommodations, a new Chapel, guard house, medical facility and band hut, the new vehicle and Engineer workshop, Armoury and Magazine.
At Tiroas Barracks in Luganville, the construction works is expected to be completed at the end of this year. Progress to date include ongoing earthworks and in-ground services for the site, as well as preparation to commence construction for the Medical Facility, Armoury and Magazine.