The Maua app
October 4, 2022 1:34 am | Posted in Business Profiles | Share now TwitterFacebook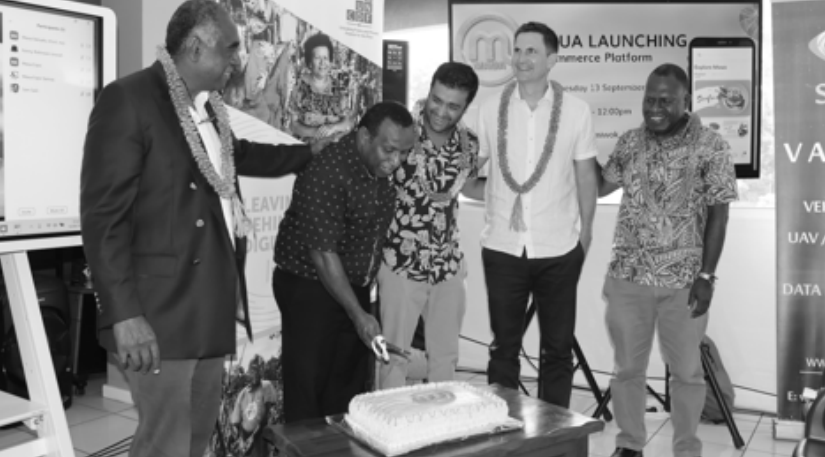 The Maua app is new to the e-commerce scene in Vanuatu. The app was launched in Vanuatu at V-LAB
on the 13th of September this year. While the app has been widely used in Samoa since 2018, the e-commerce app is available on mobile application and website form offering businesses
and customers with a digital marketplace to easily exchange goods and services. Here is everything you need to know about the new e-commerce platform that is sure to make market exchanges seamless for all as explained by the Skyeye Maua team in Vanuatu.
What is the Maua app?

The Maua App is an online shopping platform where you can browse a wide range of products and services and pay directly online with delivery service or click and collect. You can shop for everything from food, handicrafts, gifts, flowers, hardware, pharmaceuticals and more. It is available locally and internationally, allowing RSE diaspora overseas to purchase for their family in Port Vila. You can access it via website and mobile apps available for download on android and apple. You can Pay with Digicel MyCash, VISA, Mastercard, AMEX, Cash on Delivery.
When was Maua developed and was Vanuatu the first to use the platform?
Maua App Vanuatu started development at the start of this year prior to launch, marking an expansion as the Maua App has been successfully operating for 3 years in Samoa with wide adoption and use with diasporal population overseas also.
What is the purpose of the platform and how is it suited for Vanuatu?
The platform provides an online shopping experience of convenience for customers locally in Port Vila and overseas who are looking to find and pay for products and get it delivered easily .This is built for everyone from the mamas at the market to hardware stores to home based businesses, providing a tool to make it easier to sell online. The Maua App is available in Bislama and compatible with text to speech for the visually impaired. Importantly, the platform has an addressing system to overcome the lack of street addresses in Vanuatu, this allows for accurate delivery and makes it possible for small businesses run from home to be located easily for pickup orders. The main purpose of
this platform is to facilitate more trade online and faster, providing income earning opportunities for vendors and drivers.
How does the app work?
Ordering on the Maua App is a seamless and easy experience, the customer can go on the app or website and register, now they'll be able to browse products, services and vendors on the platform in different categories. When the customer is happy with their order they can click " add to cart" , write in any notes, then choose whether to pickup from the store or opt for delivery. If the customer chooses delivery they can set their exact location, then confirm payment with Card, MyCash, M-VATU (soon to be available) or cash on delivery. Once the order is placed the vendor will receive it on their app and confirm, the customer will now be updated at every stage of the order. Messaging is also available for further
convenience. For delivery orders the drivers will also receive the order on their app where they can confirm when they reach the vendor and customer. After the order is complete, the
customer will be able to leave a review for the vendor and driver.
Can all businesses use the app to interact with customers or are there criterias to meet in order to use the platform?
The Maua App aims to be open to as many local businesses as possible regardless of size or the type of product or service. However there are some basic requirements to meet to ensure vendors get the most out of the platform. To register, vendors will need a smartphone and mobile data to operate as well as a MyCash and M-VATU account to receive payments, they will need to go through registration and training process where the Maua team can work with vendors on the best approach to shifting their store
online.
How is skyeye Pacific Linked to the app and what is its role in the apps usage in country?

SkyEye Pacific is a multi award winning IT solutions company focused on solving problems suitable for our
Pacific context, our services include GPS tracking, GIS/RS, IT solutions, and now the eCommerce platform, Maua. We are based in Samoa, Vanuatu, Tonga and Solomon Islands. SkyEye developed the Maua App and it will be operated locally by SkyEye Vanuatu. What is the intended impact of the app? The desired impact of the Maua App is to reduce barriers to market access such as location, payment, and security
so that anyone can sell online and earn an income. Especially women, youth, and persons with disabilities.
Promoting economic empowerment through online entrepreneurship and financial inclusion with digital
payments. For customers we are envisioning the Maua App to be a one stop shop where you can find, pay for, and get delivered anything from food, handicrafts, hardware, to DJ services, promoting an online shopping culture as is the global trend.
There is already a thriving environment for entrepreneurship in Vanuatu and businesses selling online through facebook, this is just taking the next step and formalising it with guaranteed payments when customers order and a way of managing sales and stock. By using digital payments local vendors will be able to receive payments from overseas on the same day through mobile wallets, and sales records will be easily available and automatically tracked through the app.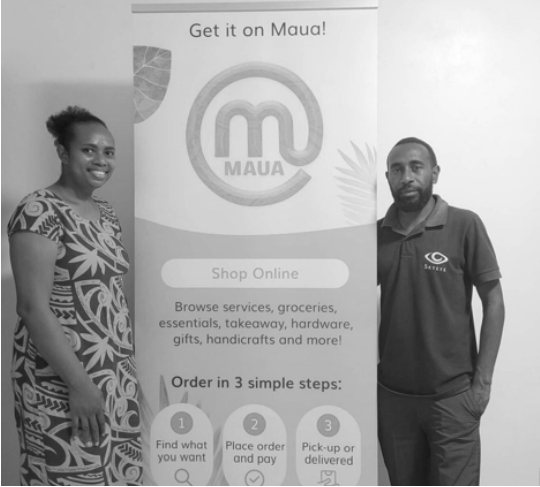 How long was the process to allow the app to be launched in the country?
The development took 6 months including setting up the addressing system and integrating payments before being launched by the Honorable Deputy PM Ismael Kalsakau, DFAT, UNCDF, and OGCIO representatives. It is now available on the Play Store, App Store, and website at vu.maua.app.
How many vendors and consumers are already using the app?
Since launching 2 weeks ago, Maua has 400 customer downloads so far and 15 vendors who have completed registration, with more vendors pending and promotions for customers to come.
Is there any advice you would like to give to vendors and consumers about the app?
Try it out! Often vendors will want to wait until they're 'ready' or more established but this is the entire purpose of the app to be your tool while you grow your business. It can be used from home, you can set it up for delivery 3 times a week, anything goes. More than likely, most businesses are already successfully operating online through social media and ready to add another level to their online presence. For customers, if there is a local business you have been wanting to support but haven't got around to it or just need to add more time to your day, check out the Maua App and let us know what you think!