NEW FISHERIES MINISTRY TO REPLACE MINISTRY OF JUSTICE
November 4, 2020 11:54 pm | Posted in Business News | Share now TwitterFacebook
By Glenda Willie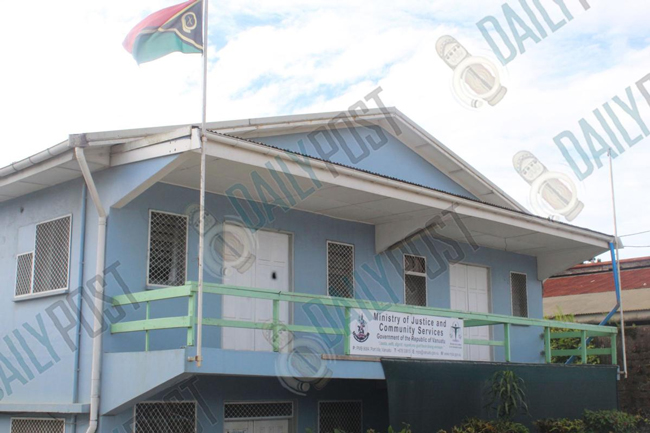 The Ministry of Justice and Community Services (MoJCS) will be replaced with the new Ministry of Fisheries, Oceans and Maritime Affairs.
Public Relations Officer (PRO) to the Prime Minister's Office (PMO), Fred Vurobaravu said the roll-out of this policy decision is expected to commence early next year.
Reaffirming the number of Ministries will remain at 13, PRO Vurobaravu said agencies under the MoJCS will be re-allocated to other government ministries. These ministries include PMO, the Ministry of Internal Affairs, and Ministry of Education and Training. 
He said all agencies currently under the Ministry of Justice are important and the Government will ensure the Hall of Justice remains a priority to address.
Consultations were done within the government to decide on which ministry would be replaced, prior to a final decision been made, the PRO confirmed.
This policy decision was approved by the Council of Ministers (CoM) as per the CoM decision 179 at Lakatoro, Malekula on October 15, 2020.
Prime Minister Bob Loughman tabled the policy direction as priority efforts to develop the productive sector.
It is the government's intention to put more emphasis on the development of the primary sector. The current government under the leadership of PM Loughman acknowledge that a separate Ministry should be allocated to Fisheries as this sector covers a wide range of important areas.
It is about time that ni-Vanuatu tap into marine resources; not only focusing only on small scale fishing opportunities, but, expand their priorities to value added products to boost the country's economy. Vanuatu is rich in its marine resources but it is not utilising and benefitting fully from its resources.
With the new ministry, Vanuatu would be contesting cannery processing and other major fishery and ocean related revenue generating avenues, as well as significant issues such as ocean boundaries and Flags of convenience.
PRO Vurobaravu confirmed a Taskforce will be appointed to oversee the restructuring and implementation of the new policy direction.
Members of the Taskforce will comprise the Director General (DG) to the PMO, who is also the Chairman of the Taskforce; First Political Advisor (PA) to the PM; Chairman of Public Service Commission (PSC); DG of Finance and Economic Management; DG of Foreign Affairs and External Trades, who currently is the chairman of Maritime Boundary; DG of Agriculture, Fisheries, Forestry, Livestock and Biosecurity; DG of Internal Affairs; DG of Justice and Community Services; and Acting DG of Public Works and Public Utilities.