Local Entrepreneur Fined VT1 Million Over Development Operations
April 11, 2023 8:00 am | Posted in Business News | Share now TwitterFacebook
By Doddy Morris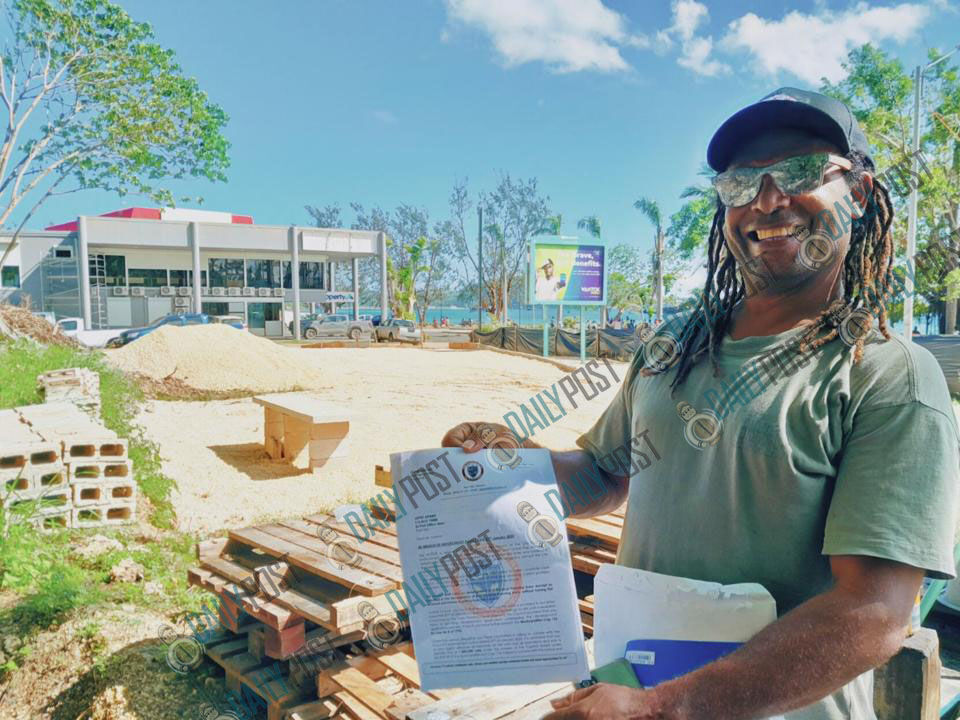 Local business owner Lopez Adams received a Breach of Enforcement Notice from the Port Vila City Council (PVCC) regarding his operations on site land title 11/OE23/032 in Fatumaru Bay on March 29, 2023.
The letter, signed by the acting Town Clerk, Mr. Robert Avio, notified Mr. Adams that he had intentionally disregarded the City Council's Enforcement Notice of January 27, 2023, and carried out operations without first obtaining a development permission from the Council.
The letter highlighted that Mr. Adams' actions were in violation of the 1992 Building Permit By-law No. 8 and the Physical Planning Act's Section 4 [CAP 193], which prohibits carrying out development in a physical area other than what is permitted by the physical planning area, unless prior written consent from the council has been obtained.
The letter also stated that Mr. Adams had ignored the advice provided in a letter dated January 27 to abstain from all undertakings on the site until a resolution is reached by the Town Planning Committee and the Council, given that he had a pending development application undergoing the development application process.
The letter warned Mr. Adams that failure to comply with the notice and settle the penalty fine of VT1, 000,000 within 28 days would result in legal action being taken against him by the Council under section 69 of the Municipalities Act [CAP 126].
When contacted to respond to the accusation, Mr. Adams told the Vanuatu Daily Post that no building structures had been put in place yet and that his boys were only pouring corals to make the area more attractive because it was previously an unattractive and anti-social issue site.
Mr. Adams claimed that he had submitted his building applications to the Municipal Town Planning for more than three months and that the application should have been approved within a week.
Mr. Adams expressed his displeasure with the lack of communication from staff members at the Municipal Town Planning and their tendency to threaten him rather than offer solutions.
He claimed that they never respond to his emails and promised to give him a call for an update, but they never do so.
He further claimed that the Municipal Town Planning demanded an additional 40% payment on top of the application price to speed up the process, which he believed was a means the Council is resorting to get money from business houses, particularly with Chinese businessmen.
Mr. Adams insisted that he only requested a temporary structure to put shelters for a Kava Bar, Café, and other small businesses and not a permanent structure.
He questioned why the Council required him to pay another VT40,000 to approve his application for a temporary structure when many Nakamal and temporary structures existed along the roads.
He also queried how many permit applications were awaiting approval by the Council and how many Council meetings had taken place within the three months after he submitted his application.