Blue Bay Resort – Eric Vatoko
November 26, 2020 2:27 pm | Posted in Business Profiles | Share now TwitterFacebook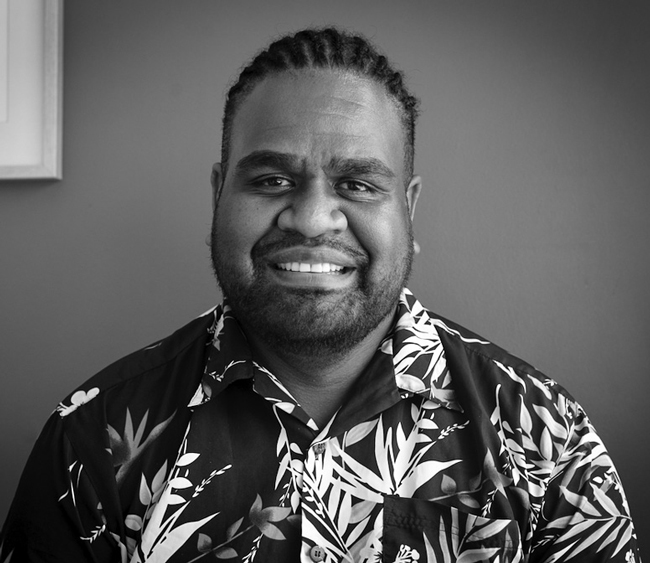 A young entrepreneur who is not afraid to go beyond the limit by climbing new heights and testing new waters, Eric Vatoko has long been the Managing Director of the famous Blue Bay Resort, a family inheritance that's been passed on by his father.
The 32-year-old business magnate from Mele is very humbled at what he does, with the help from a close family friend and his brother, Eric has managed to thrive the family business and keep it flourishing for 4 years.
The family business heritage, Blue Bay Resort which is formerly known as Tara Beach is located at Devil's point and holds a range of 10 medium-sized bungalows and a wealthy restaurant.
Each bungalow is well-equipped with a lounge area, a kitchen and two bedrooms – one master bedroom and another mini-sized room with twin beds, a bungalow is worth vt6,000 for one night which can hold a maximum of 6 people.
With a diligent team of 10 staff, all from different islands of Vanuatu, the resort is unique for its wide-open view for the ocean, the resort is an exquisite haven by the bay with amazing fun activities such as kayaking and fishing.
Blue Bay Resort was first established in 2008 and became of one of the most stunning A-listed resorts in Efate.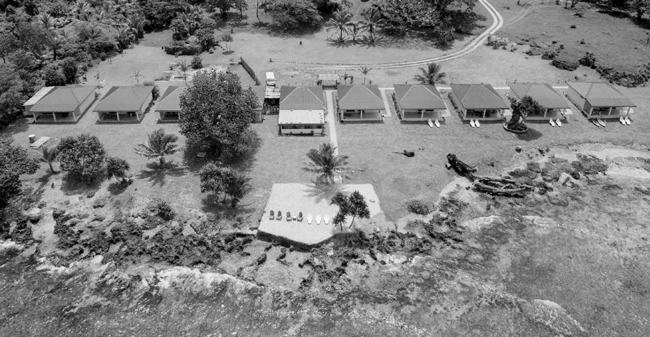 In 2015, when Vanuatu was struck by category 5 Tropical Cyclone Pam, the resort had suffered some pretty huge dents which needed quick repairs.
"I volunteered my support to rebuild the resort by signing up for the Regional Seasonal Workers Program at Hawkes Bay in New Zealand," he said
In 2016-2017, Eric travelled overseas to work in the RSE schemes. Upon his return, he managed to invest his wealth to rebuild the inoperative resort.
In time, he has managed to renovate the business and changed its name from Tara Beach to Blue Bay Resort.
"It was one achievement I was most proud of, to rebuild our family's business."
Covid-19 has also stirred problems and created challenges, with closed borders and with no tourists coming into the country, Eric has to cope with new changes and make new decisions that can keep the business striving.
To adapt, Eric has to layoff some staff and reduce prices of rooms as the restaurant menu.
His experience in the tourism business sector was derived from his previous employments at various tourism sectors such as the Coconut Palm Resort and Le Lagon.
"I've been feeding my experience from high-class resorts to prepare myself for when the day comes when I will take over the family business."
All in all, there have been some positive responses and feedbacks from customers.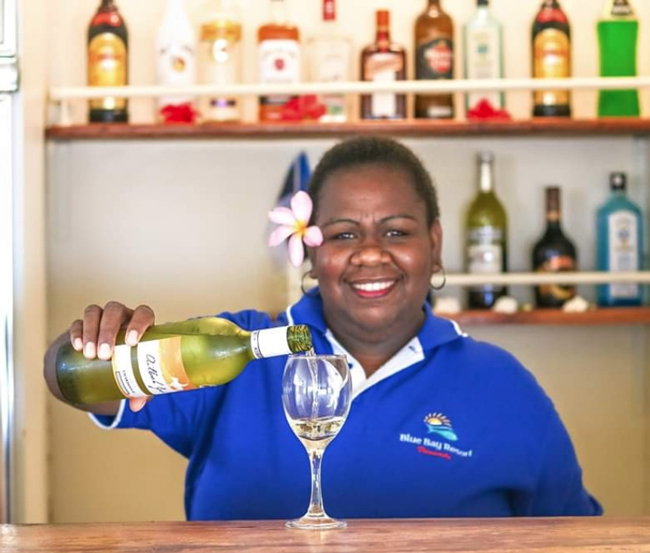 Blue Bay Resort is famous for hosting weddings and business retreats, with a pier that stretches towards the blue waters and perfect swimming spots available, the resort is highly recommended to be one of the most picture-perfect sight for interested customers.
COVID-19 has made it impossible for everyone to cope. As for Eric, he fell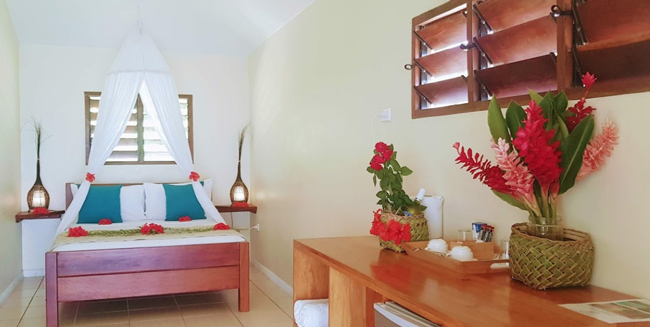 With the desiring need to seek help, he approached the Vanuatu Chamber of Commerce and Industry (VCCI) where he learnt basic life coaching skills to stabilize his mental health. In early September, he was transferred to the Vanuatu Laboratory (VLAB) at YumiWork space to join the business incubator program. V-LAB is a charitable Association created to support innovation and social entrepreneurship in Vanuatu. Working hand in hand with YumiWork, Port Vila's first co-working space. Both associations seek to provide access to facilities, services and mentoring to the young entrepreneurs in Vanuatu with a view to enable them to develop and grow their businesses and ideas as well as to promote entrepreneurship in the country.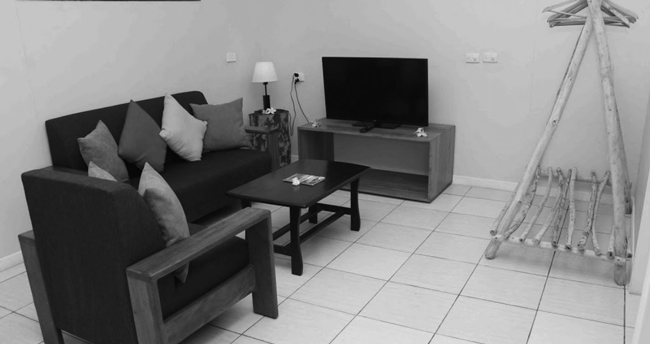 Through the support provided by DFAT funded program – 'Scaling Frontier Innovation,' Eric was selected along with 10 elected entrepreneurs who will receive an extensive package of support which includes training, coaching and networking.
His training courses was held every Wednesday in two weeks, with business coaches Rob Macalister from Savvy Vanuatu and Joe Tamata who is the General Manager of Moorings Resort.
During his time at VLAB, Eric claimed to learn a lot of new things, "there were very resourceful presentations, I also learnt that you don't need a paper or a degree to start your own business, VLAB guarantees you will learn more that you expect.
"To be surrounded by entrepreneurs as myself and to share ideas is a great feeling and way to build your own experience by feeding off from others.
His 4-months training at VLAB is expected to finish next year on January. For now, Eric is proud of where he is at the moment but he assures he will expand his works in the near future if everything falls according to plan. He would like to encourage young entrepreneurs to always have the passion for starting something new. "Don't be afraid to seek help from VLAB to grow your business, VLAB is there to assist you."