JICA provides Automatic Weather Station equipment for Vanuatu Meteo
April 28, 2021 5:19 am | Posted in Business News | Share now TwitterFacebook
Compiled by Jason Abel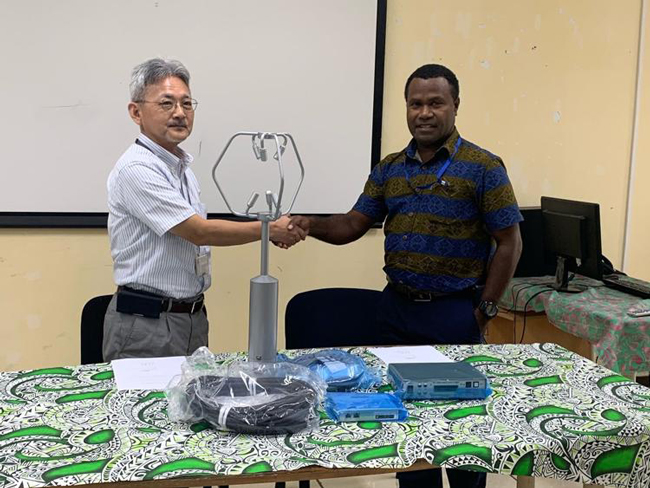 Japan International Cooperation Agency (JICA) has provided Automatic Weather Station (AWS) equipment to the Vanuatu Meteorology and Geo-hazards Department (VMGD), with an aim to address disaster risk management.
The 'Enhancing the Capacity of Issuing Earthquake, Tsunami and Storm Surge Information' (Van-Redi) project is being implemented under the JICA Technical Cooperation, in collaboration with VMGD.
The project commenced with the installment of different meteorological equipment at Malekula (Litzlitz), Tanna (Lenakel) and Santo (Pekoa Airport).
The ongoing activities of the projects were delayed due to COVID-19, however efforts were made to ensure the project activities advanced.
Tropical Cyclone Harold also hampered the project as it hit the Northern Province in April, 2020, damaging the AWS on the Santo Project site at Pekoa Airport. Nevertheless, the Japanese Government through JICA has supported the Van-Redi Project by funding its replacements.
The items include: 1) Ultrasonic Wind Sensor (SAT-600), 2) Humidity Sensor (HMP155), 3) Data Logger equipped with GPS receiver and 4) Converter and Arresters for wind sensor. The items are purchased in Japan and Finland, valued at approximately VT1.5 million.
During the handing over of the equipment from JICA to VMGD, JICA Resident Representative, Mr. Naoki Takechi said JICA recognises the importance of assisting in this area.
"I hope the equipment is installed as soon as possible to support international and also domestic air flights," he said.
The Director of VMGD, Mr. Montin Romone expressed the Department's gratitude towards the Government of Japan through JICA for the continuous support towards the department.
He described it as a huge assistance towards the aviation sector, as part of the continuous recovery efforts from TC Harold.
"This equipment will really help boost our aviation services after the damage by TC Harold," said Mr. Romone.
The Director said the department is looking forward to collaborating with JICA in implementing other activities in the near future.
The Government of Japan, through JICA's technical cooperation, is ready to share its experience in disaster risk management and continue to support Vanuatu's recovery efforts.