Opening of Wanfuteng Bank's New Branch in Santo a Success
May 3, 2021 4:07 am | Posted in Business News | Share now TwitterFacebook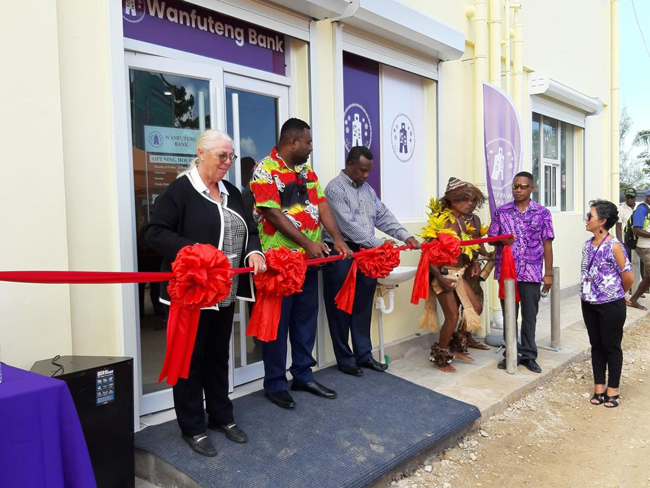 The new Wanfuteng Bank Branch in Santo was officially opened yesterday, Friday 30th of April 2021, with over 100 guests in attendance.
The branch was officially opened by the Lord Mayor and a Representative of the Reserve Bank of Vanuatu Director Noel Vari. Santo business and retail customers expressed their appreciation and excitement of Wanfuteng Bank having a presence in Luganville.
The opening of the Wanfuteng Bank Branch in Santo is a milestone as the Bank heads into its 3rd year of Banking Operations in Vanuatu; and during the challenges with the ongoing COVID19 crisis.
"Our vision has always been to provide excellent customer services with the best rates in town.
"We are pleased to be able to extend our offering to Santo," stated Owner and CEO Catherine Le Bourgeois.
Director Noel Vari expressed his gratitude to the Wanfuteng Bank team on their vision to expand their services to Luganville, Santo and congratulating the Shareholder, Board of Directors, Management and staff.
Director Vari stated that the establishment of the branch in Luganville is important to the development of our northern town and surrounding communities in Santo as this will provide another option for banking customers here. Vari went on to further say that "this expansion to Santo and other provinces will help to contribute to advance our National Financial Inclusion Strategy efforts and in particular Santo"
"It is truly a significant milestone for the Bank since opening our doors 3 years ago.
"Our team have worked hard to make it happen; it is a milestone for the Bank, our staff and for the Santo market who have been looking forward to Wanfuteng Bank having a presence in Santo," stated Wilmaraia Vocor, General Manager.
To mark this milestone, Wanfuteng Bank has launched its Wansaver Account with zero account opening fees and zero and monthly fees.