Solar to light up Tanna airfield
December 21, 2021 2:56 am | Posted in Business News | Share now TwitterFacebook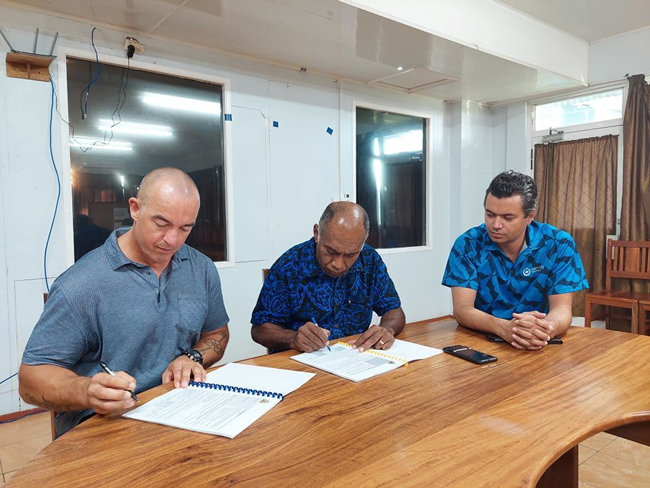 The Vanuatu Government has confirmed its support and endorsement of the Tanna Airport Solar Airfield Ground Lighting project.
It has awarded the contract to Airport Consultancy Group (ACG) as Consulting Engineer to the project, to assist Airports Vanuatu Limited (AVL) and Ministry of Infrastructure and Public Utilities (MIPU).
The project was launched by Prime Minister Bob Loughman on 7 October, 2021 at Tanna Airport during TAFEA's 40th anniversary celebrations.
A contract agreement was signed this week by the Director General for MIPU, Johnson Binaru Iauma and the official representative of ACG in Vanuatu, Dr. Jason Thomas.
ACG is an internationally recognised aviation consulting firm with a wealth of aviation project experience in the Middle East, Asia, Australia and Oceania.
AVL originally acquired ACG's services and advice on addressing runway pavement repairs and upgrades for Port Vila Airport in 2016 and have confirmed that their advice and assistance has been immensely appreciated in ensuring confidence is maintained with all airlines. Since then, AVL has continued working in partnership with ACG to date on a number of aviation infrastructure projects including:
• VLI Runway/Taxiway/Apron Rehabilitation Project (Complete) – 2019
• SON Runway/Taxiway/Apron Resurfacing project (Complete) – 2018
• TAH Runway/Taxiway/Apron Surface Enrichment Treatment (Complete) – 2018
• VLI Airfield Ground Lighting project (Complete) – 2019
• VLI/SON/TAH Navigation Ground Aids Upgrade Project (In progress)
AVL confirmed that ACG's advice and recommendations have consistently been in line with international standards and recommended practices and AVL's vision for the development of its airports.
Tanna Airport's solar airfield lighting project is of huge operational significance to AVL's airline partners, airport users, the community, and the Tafea province. Beyond the operational impacts, the project has sustainability at its core, in its use of solar.
Airports Vanuatu conducted a thorough review of lighting options and selected the solar option as the optimum solution for Tanna Airport. The decision is in line with AVL's commitment to reduce its carbon footprint and support the global aviation community in achieving its goals of reducing its environmental impact. AVL aims to achieve this through participation in the Airports Council International (ACI) Airport Carbon Accreditation (ACA) programme, which guides airports through stages of actively reducing their carbon footprint through various initiatives
The contract with ACG will go for a period on 9 months as of the date it has been signed on 16th of December 2021. By this time next year, it is expected that Tanna Airport will be capable of facilitating night flights.