GOV'T, RUSSET INK MALEKULA AIRPORT UPGRADE DEAL
December 2, 2021 12:08 am | Posted in Business News | Share now TwitterFacebook
By Hilaire Bule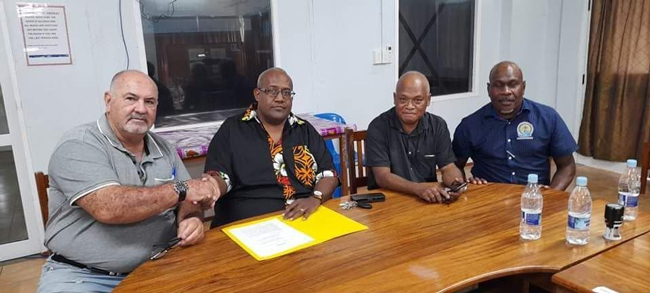 The Vanuatu Government through the Minister of Public Utilities, Jay Ngwele, and the owner of PRV plantation on Malekula, David Russet have inked an agreement for upgrade works at Norsup Airport to proceed.
Under the agreement, Mr. Russet allocated 30 hectares of his plantation to upgrade the airport.
He said the government has until 15th of March 2022 to determine the payment.
Mr. Russet stressed the most important thing is that he is more than happy to relinquish part of his plantation for the benefit of the people of Malekula and Vanuatu as a whole.
Malekula is the second biggest island in Vanuatu, with huge coconut and cacao plantations.
One the best chocolates in the world is derived from cacao there. Currently, there are ongoing infrastructure developments such as roads, wharf and hydro power project.
Norsup Airport was supposed to be upgraded by the Agence Francaise de Developpement (AFD), in the same year with Lonorore Airport on Pentecost and Longana Airport on Ambae, but land disputes prompted France to withdraw its financial support.
Norsup Airport is also one of the busiest airports in the country and the upgrade is expected to boost development on the island.