V-Lab closes 'YumiGrowem Vanuatu-2 witha business showcase
May 31, 2023 10:09 pm | Posted in Business Profiles | Share now TwitterFacebook
Written by: Emma Hivo – Communications Specialist.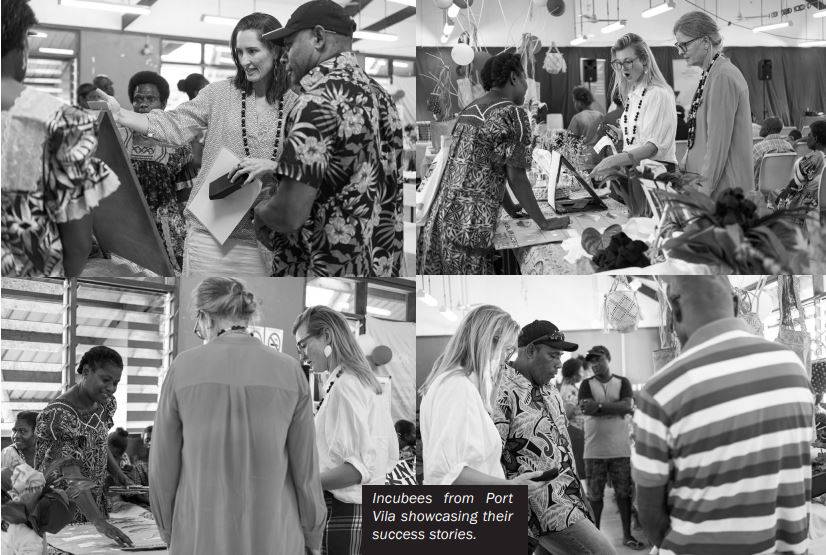 The Yumi Growem Vanuatu (YGV) Cohort 2 program has recently concluded, marking a significant
milestone in the empowerment of returned seasonal workers in Vanuatu. In partnership with the Department of Labour and supported by the Australian and New Zealand governments, this reintegration program provides opportunities for workers to invest in their own businesses. The program's closing ceremony and exhibition showcased the remarkable achievements of the participants, highlighting the tangible impact of YGV in transforming lives and fostering entrepreneurship in Vanuatu.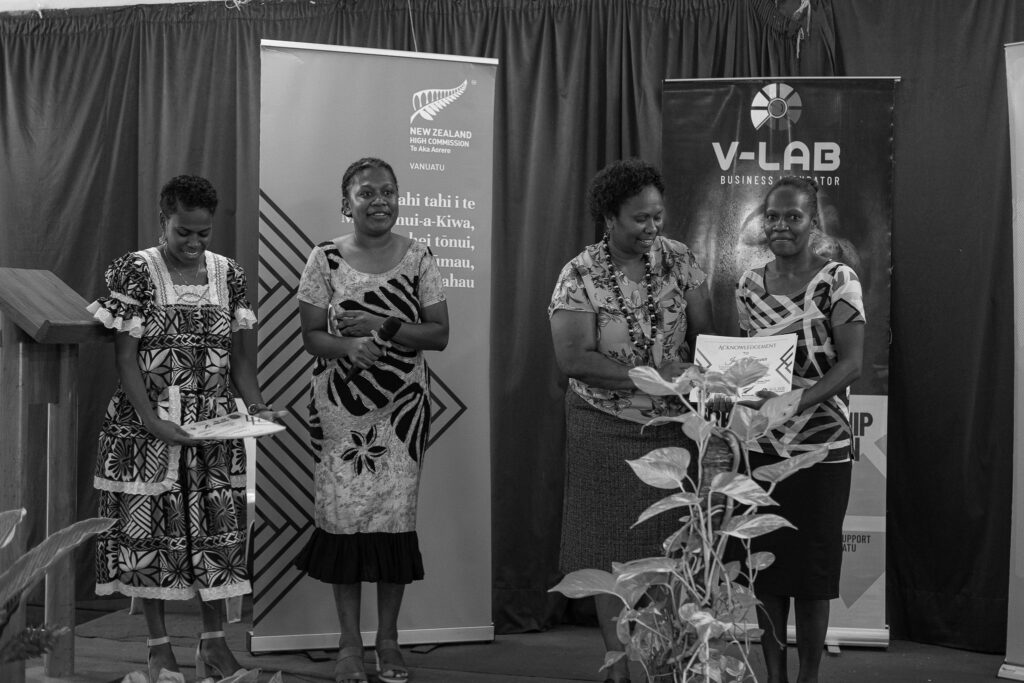 H.E Murielle Metsan (Commsioner of Labour) and Josian Tovovur (Port Vila
Incubee)
The YGV program focuses on empowering returned seasonal workers who seek to establish businesses
upon their return to Vanuatu and aims to create sustainable economic opportunities and uplift communities. The recently concluded YGV – Cohort 2 program witnessed a momentous closing ceremony held at the School of Hospitality and Tourism. Attended by esteemed guests, including H.E Murielle Metsan (Commissioner of Labour), H.E Nicola Simmons (High Commissioner of New Zealand), and
H.E Heidi Bootle (High Commissioner of Australia), the event celebrated the success of the program and
acknowledged the dedication of all stakeholders involved.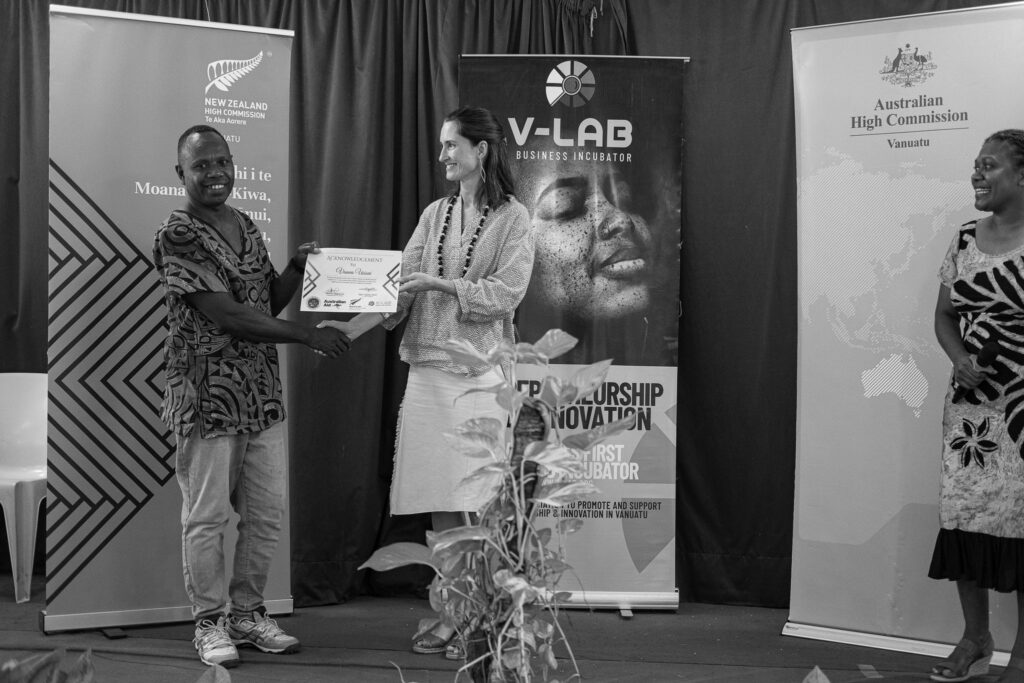 Santo Incubee receiving his paper of acknowledgment – Vanua Usi Michou
This year, the closing ceremony took on a new dimension with the inclusion of an open business exhibition. Participants were given the chance to display their exceptional products, showcasing
their business growth to a wider audience. This innovative approach provided an up-close experience of
the achievements made possible by YGV, offering concrete evidence of the program's positive influence on the lives of its participants.

Notably, the event brought together participants from both Santo and Port Vila, fostering a sense of unity
and friendship among aspiring entrepreneurs. The Exhibition served as a platform for the exchange of
ideas and experiences, as well as an opportunity for networking and collaboration.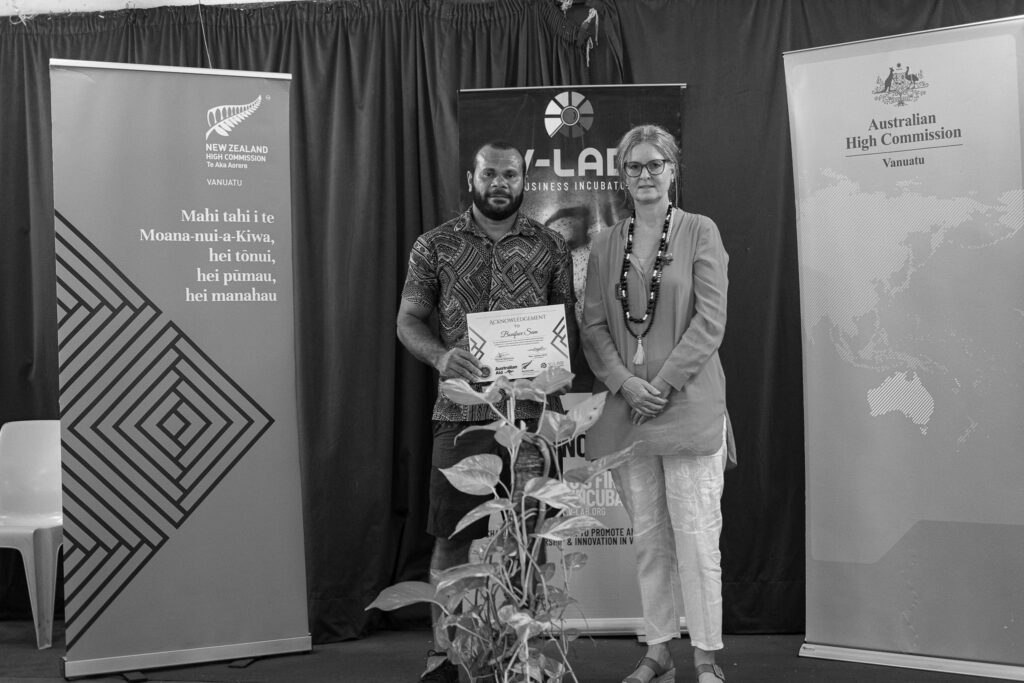 H.E Heidi Bootle (Aus. High Commissioner) and Boniface
Sam (Port Vila Incubee)
V-Lab, the organization behind YGV, expressed heartfelt appreciation for the trainers and coaches who invested their commitment and hard work in the program. Their passion for what they do, coupled with effective teamwork, has been instrumental in the success of this incubation period. V-Lab's
gratitude extends to the generous donors and partners who have provided invaluable support, demonstrating a profound commitment to the people of Vanuatu.

The successful completion of the Yumi Growem Vanuatu – Cohort 2 program is a significant milestone in empowering returned seasonal workers in Vanuatu. This reintegration initiative has shown its transformative impact on lives.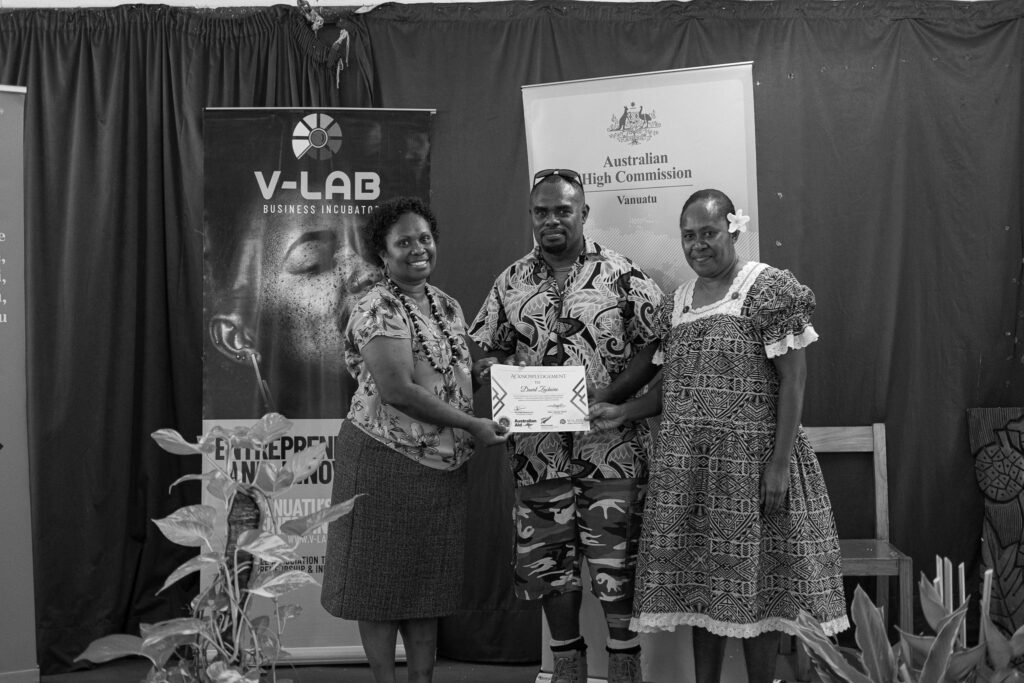 Receiving their acknowledgement of participation,
David Zacharie and wife. (Port Vila Incubees)
The closing ceremony and exhibition provided tangible proof of the YGV program's effectiveness. Participants showcased their remarkable products, demonstrating the potential for sustainable business success. The unity and collaboration among participants from diverse communities and islands further highlight the program's ability to create a supportive and vibrant entrepreneurial ecosystem.

Yumi Growem Vanuatu program stands as an inspiring example of how empowering individuals and nurturing entrepreneurship drives economic growth and social progress. With ongoing support and dedication, YGV will continue to generate more success stories and shape a prosperous future
for Vanuatu and its aspiring business owners.