FRANZ partners reaffirm their cooperation on World Humanitarian Day
August 19, 2020 12:30 am | Posted in Business News | Share now TwitterFacebook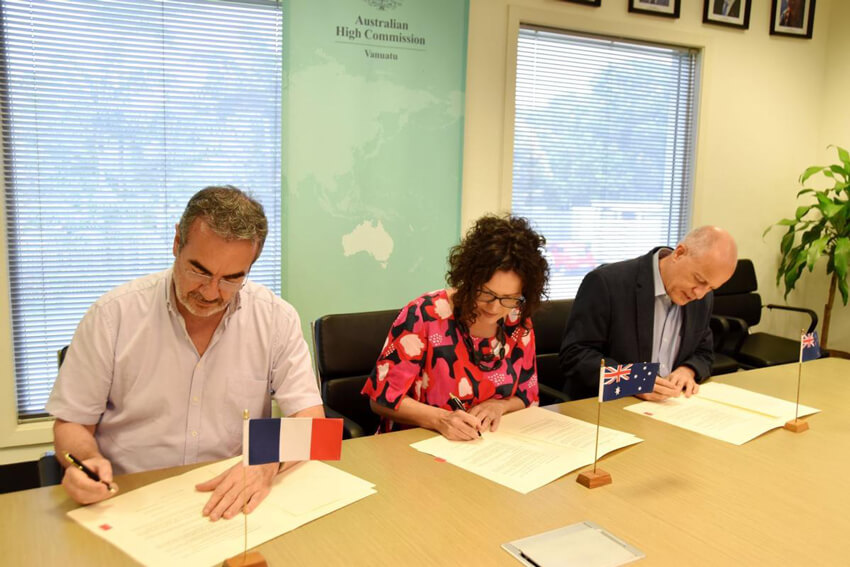 On the occasion of World Humanitarian Day, 19 August 2020, Australia's High Commissioner to Vanuatu, Sarah deZoeten, New Zealand's High Commissioner to Vanuatu, Jonathan Schwass, and French Ambassador to Vanuatu, Pierre Fournier, as FRANZ Partners, signed an updated in-country arrangement to strengthen cooperation in times of disaster.
"Vanuatu has faced the dual challenges dealing with COVID-19 and severe tropical cyclone Harold in in 2020. FRANZ partners were pleased to be able to support the work of the Vanuatu Government that ensured Vanuatu remained safe from COVID-19 while responding to Tropical Cyclone Harold," said FRANZ Chair, High Commissioner deZoeten.
This year's World Humanitarian Day pays special tribute to the 'real-life heroes' who are committed to helping others in the most extreme circumstances. World Humanitarian Day comes as Vanuatu continues to fight the COVID-19 pandemic whilst supporting communities to recover from the hardships caused by Tropical Cyclone Harold and Tanna Ash Fall.
The FRANZ arrangement was signed in 1992 by the French, Australian and New Zealand Governments to ensure effective and coordinated assistance to the Pacific region in disasters. The FRANZ partnership has been activated to support the Vanuatu Government in multiple relief operations.
FRANZ Partners are committed to good humanitarian donorship principles and stand ready to assist Vanuatu in times of disaster.