Edgell's smile that growshersales at Mahitahi
October 16, 2023 11:12 pm | Posted in Business Profiles | Share now TwitterFacebook
By Len Garae.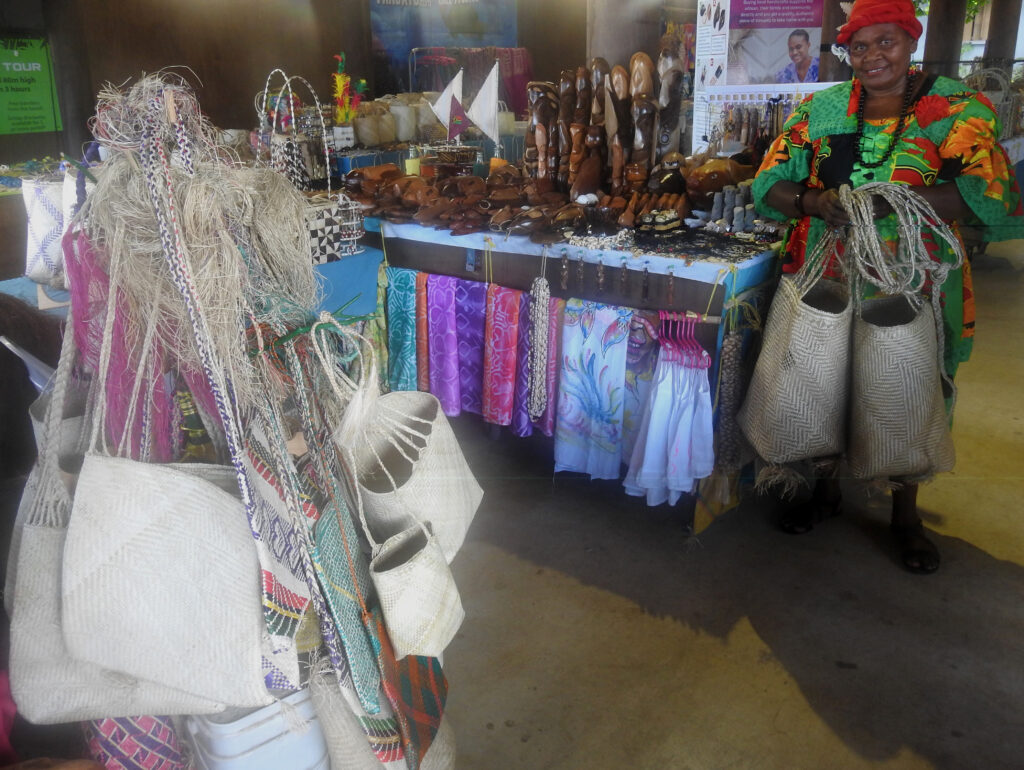 She explains to me in
an exclusive interview, "I
buy all my products from
producers in the islands
of the six Provinces.
Qwenneth Edgell, 49, is a constant flame that burns through all six Provinces with hope for mothers in
particular, who put food on the table for their families as well as provide them with financial means to send their kids to school.
The mother of four owns a booth in Mahitahi Handicraft Centre, which is located next to Nambawan Café on the Sea Front, on the way to La Tentation Restaurant.
Unlike other vendors who are also producers, she buys and sells her variety of products from local producers to both locals and foreigners.
She explains to me in an exclusive interview, "I buy all my products from producers in the islands of the six Provinces.
"My current partner also carves and adds value to some carvings by utilising his skills to make some carvings look extra cute and eye catching for my customers".
While the two have yet to "tie the knot", the charming business woman has an eye for her sales. She grew
up in a family that experienced those home challenges faced throughout the country.
She recalls, "I began to have serious thoughts of doing what I current do as far back as during my primary school days.
"After my secondary education at Vureas St. Patrick College on Ambae, I settled down with my husband and we went to work in Luganville in Santo then we moved down here to Port Vila.
"I must say thank you to God for settling down on Efate as I wanted to find a job to support my husband then and I started as a sales assistant for an aunt in a similar set up to what I now own.
"With the help of my late husband who was an officer in the Department of Geology and Mines (who passed away in 2014), he encouraged me to help him put food on the table because as the sole bread winner in our family while raising our two boys and two girls, was a challenge.
She and late husband first set her up at Centre Point where her booth sold grass skirts. Gradually, she started to increase the variety of her products in her booth which today, is fully filled with attractive items from ear rings to necklaces to carvings to baskets of all sizes and even giant mats for both cultural and funeral events,
With an eye to add new goods to continue to win the hearts of her customers, she recalls the first time
she asked her mother who is now 74 years and an active weaver of baskets and mats, to weave her some baskets.
"My mum wove seven baskets and sent them to me. After selling them, I asked her to collect her Vt15,000 from the Western Union in North Pentecost. She held the cash in her hands and wept for joy that at last she was earning some cash from her daughter's booth in Port Vila.
"She has been my most favourite customer ever since".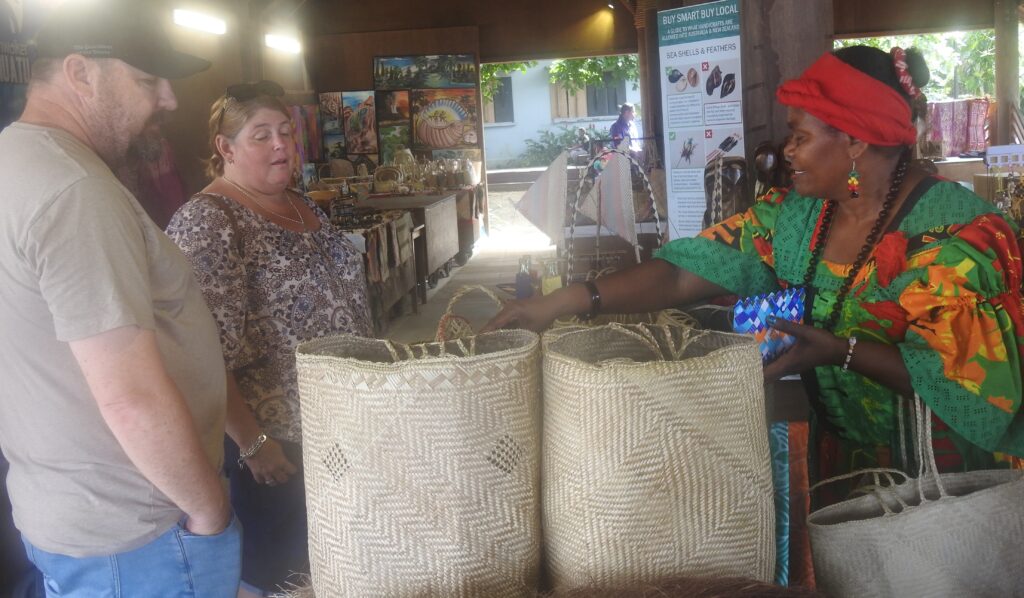 Asked how she feels when she sends cash to her producers in the islands; with a knockout smile she explains, "My heart is filled with joy knowing that I am able to contribute perhaps in a small way, towards a family's urge to pay for children's school fees and even put food on the table. I see God's hand in what I do to continue to have a sound partnership with my producers".
The business woman says when she receives her products, she adds a small markup to keep her booth open for business. "Even my mum helps by encouraging other producers in North Pentecost to also weave and send their products to me", she says.
"This also helps their families to put food on the table and send their children to school. It is also an eye
opener for them as it motivates them to reach out beyond their horizon".
Mrs. Edgell's advice to mothers and women in Port Vila is not to waste their time doing nothing. "Time is money! If your husband or partner is working, please mama help him. Don't waste your time telling stories and gossiping and playing cards because God has created you for a purpose", she advises.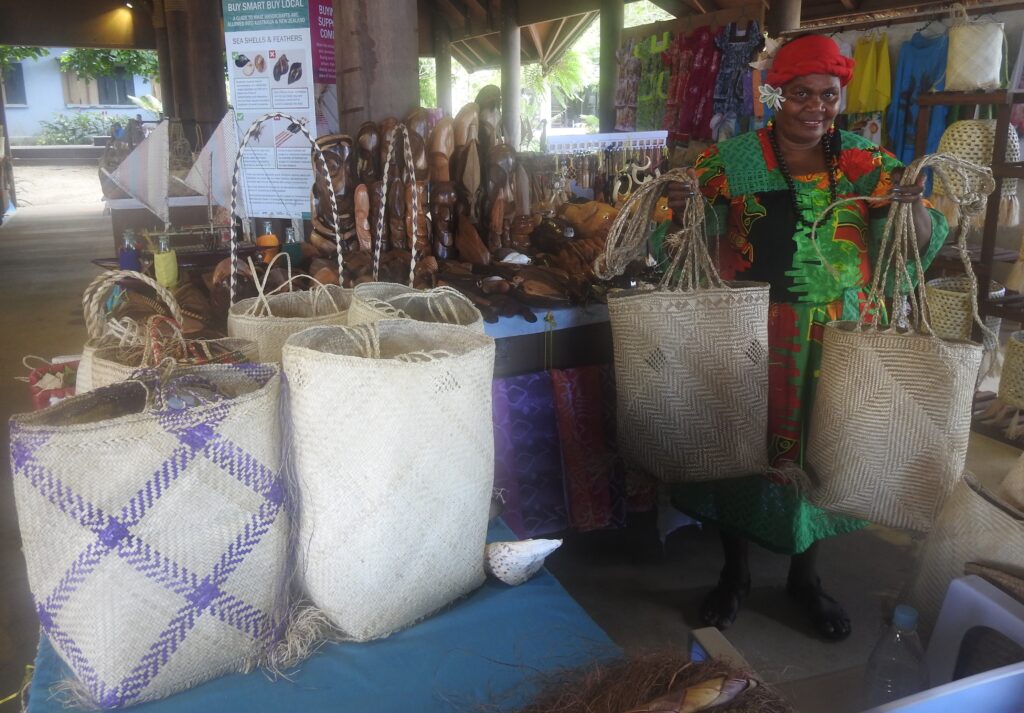 "If you are a mother like me and you are a tailor, find a way to sew some clothes and send them home for sale. With the money that you receive from those sales, you can start to expand your business with your relatives back home. Who knows? Such an initiative could wake up an opportunity that is sleeping. Even those relatives back home, could come up with an even better business idea and trigger a positive economic chain reaction never dreamed before".
Mrs. Edgell does not see herself being a widow as an excuse but as an opportunity to stand and follow her late husband's advice to run her business successfully to raise their children and plan for the future ahead.
At her current business focus, any dream of retiring is nothing but a myth. Asked how much she is making, she replies with a knockout smile. It says it all.
She is ready for any opportunity to increase her current number of producers in the islands. She says her
mobile number is 5267874.