Vanuatu Songbird donates Vt370,000 proceeds from concert for TC Harold victims
August 18, 2020 11:45 pm | Posted in Business News | Share now TwitterFacebook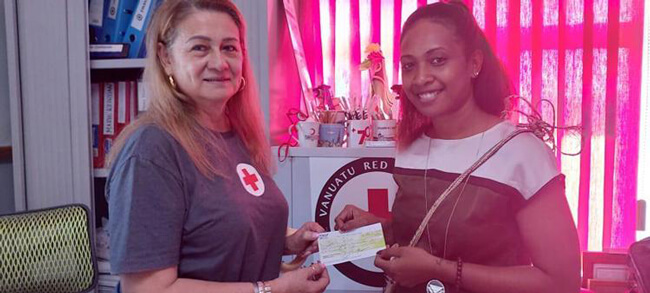 The Vanessa Quai Music Association (VQMA) yesterday confirmed Vanuatu songbird, Vanessa Quai, handed over a second donation to the Vanuatu Red Cross Society (VRCS) on Monday 16th August 2020.
The donation of over Vt370,000 was from her "Light It Up" unplugged live concert hosted by Vanuatu Broadcasting & Television Corporation (VBTC), which took place on the 27th of June 2020. All proceeds of the donation were collected by the Kiwanis Club of Port Vila.
Songstress Quai's intention to give the proceeds to the VRCS to coordinate the funds for the TC Harold victims, as a respect and honor to her late grandparents, Dr. Batholomiu Quai and Mrs. Mary Angela Quai, who were life time members of the Red Cross Society, and pioneered the Red Cross operation to West Ambae in 1968.
VQMA thanks Vanuatu music celebrity Quai for the effort in putting the concept and everything together for the show and salutes the partnership of: VBTC, Kiwanis Club, Au Bon Marché, Digicel, Life Changers Christian events, Tropick Zound, Kora Foundation, Australian High Commission, Chinese Embassy, Reserve Bank, Alliance Francaise, Harvest Production, Kids Home Care School, Vanuatu Beverage, Master Chew, Wilco, Wan Smol Bag, Sea View Take away, Island Time Take Away, Vanuatu Treasures, Carrie Shopping Centre, Ah Pow Bakery, Traverso, South Pacific Meat Supplies, Sun Production, Paris Shopping, Holiday Inn Resort, AJC, La Belle Noir, Jenny Hair Salon and Master Chew.
The Association acknowledges MCs of the event, (Sharon Nicholes, Saipresz Sope, Arthur Night, and DJ Pamela), the New Breedz Band, featured artists (Stan Antas, Sheila Willz, Tujah (Bobby Shing), Noble (Ben Joel), and Hiptutaboy – John Baptist Holi, from the Solomon Islands), the supporting comments of the regional artists, and Mr. Nigel & Mrs. Christiane Quai for being the supporting parents behind the event.
It also thanks the fans that participated in the promotion of the show, especially those that tried to sing Vanessa's songs and everyone in Vanuatu and around the world for giving their support in viewing the show on live streaming and donating towards the cause, despite the impact of COVID-19.
The unplugged live show of the "Light It Up" Concert by Vanessa Quai and Friends can be viewed on: https://www.facebook.com/vbtc.vu/videos/1136756676707172/