Air Vanuatu's ATR aircraft to recommence service tomorrow
December 21, 2020 10:14 pm | Posted in Business News | Share now TwitterFacebook
By Godwin Ligo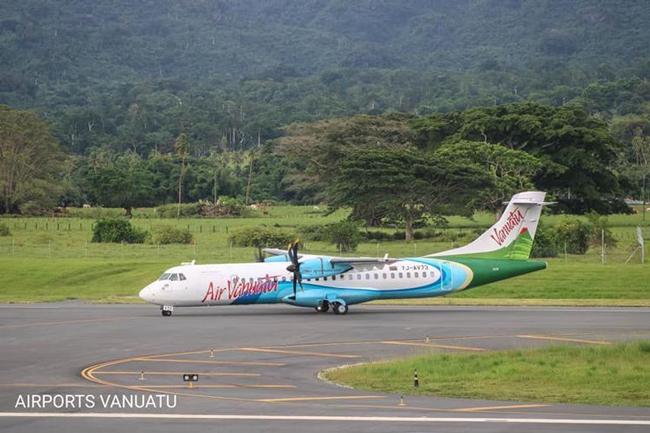 Air Vanuatu's ATR72-600 aircraft will finally recommence service tomorrow.
The ATR returned on December 4 after nine months undergoing maintenance in Cairns, Australia.
The two flights from Port Vila to Tanna tomorrow, Sunday 20th December 2020, are fully booked, and two return flights, from Tanna to Vila, on the same day are also fully booked, said Air Vanuatu's Acting Chief Accountant Officer, Natalie Mills.
She said bookings for the ATR72 between Port Vila and Tanna over the Christmas and New Year period is a big relief on this busy passenger route, for the airline as the ATR72 re-enters service.
In the meantime, the Boeing 737-800 aircraft is busy over the Christmas and New Year period on the Port Vila-Luganville route.
According to Mills, the Boeing 737-800 aircraft which has the capacity of 156 passengers, does three flights a week on Tuesday, Friday and Sunday between Port Vila and Luganville, Santo.
She said a high percentage of passengers travelling between Port Vila and Luganville, Santo, are buying up seats because they enjoy the services of Air Vanuatu Boeing aircraft and flight time between Port Vila and Santo, adding "bookings remain above 100 passengers on every three flights a week".
She mentioned that flights to other destinations within Vanuatu are also full and busy during the December 2020 Christmas and New Year period which has always been a peak season for the national Airline domestic services.
Air Vanuatu acknowledges the support of the current government led by Prime Minister Bob Loughman, Minister of Finance Johnny Koanapo, and the people in making use of the domestic services provided by Air Vanuatu throughout the country.