Australian Federal Police Assists in Cyber Safety Awareness
December 21, 2020 10:10 pm | Posted in Business News | Share now TwitterFacebook
By Adorina Massing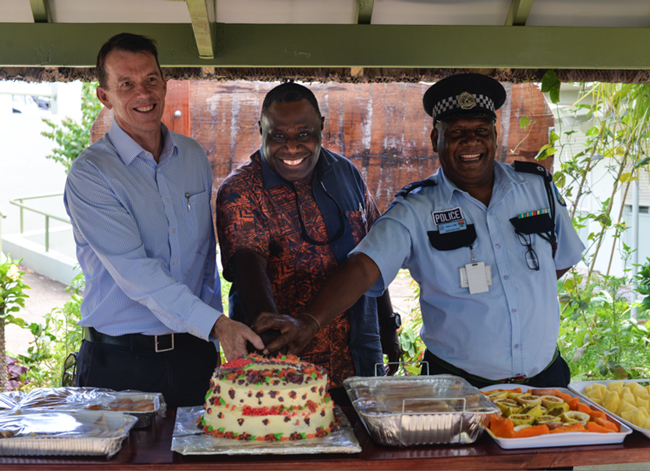 Cyber Safety Pasifika (CSP) led by the Australian Federal Police (AFP) has donated an amount of resourceful supplies to the Vanuatu Police Force (VPF) on Thursday this week at the VANSEC building.
Acting Commissioner of Police, Robson Iavro said the donation of two tents which will be used in Port Vila and Santo will help to strengthen Police awarenesses on Cybercrime issues in the country.
CSP is an Australian Federal Police-led cyber safety awareness and education program which is being delivered in 18 Pacific island countries through local Pacific police officers.
Sergeant Jeff Natapei from the National Crime Prevention Office said the program is supported by the Pacific Island Chief of Police, which consists of all Police Commissioners in the region.
"The program was first launched in 2012 and later got updated in 2017, with a purpose to establish cyber safety awareness and training in all Pacific countries," he said
Sergeant Miller confirmed there are 3 pillars under Cyber Safety Pasifika: Awareness program, Investigation program and Prosecutor trainings.
"So far, since the borders are still closed, we are using zoom platforms to run trainings between countries.
"Vanuatu Police Force currently has over 30 trainers involved in the Cyber Safety Pasifika program which is a huge achievement for the country."
AFP Detective Sergeant Simon Teece assured the program helps educate the communities in relation to online engagement, "what users are doing online and how to be safe online".
Australian Government Cyber Security Strategy details a commitment to partner with international law enforcement, intelligence agencies and other computer emergency response teams.
These partnerships will build cyber capacity to prevent and shut down safe havens for cyber criminals.
Australia's capacity building assistance will also enable Vanuatu's international partners, particularly in the Pacific region, to develop their institutional capacity to tackle cyber security threats.