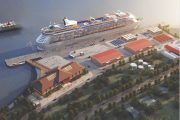 June 16, 2016 10:30 am | Posted in Features
At first glance, the new Luganville wharf looks like a vast expanse of nothing. But that's kind of the point.
Roughly 7,000 cubic metres of earth were moved in the construction process, and by the time construction is finished in June next year, the contractor will have constructed or refurbished 20 separate structures.
Read more»