V-LAB is all about being Environment Conscious
May 29, 2021 11:30 pm | Posted in Business Profiles | Share now TwitterFacebook
Sethy Melenamu is a charismatic, enthusiastic, thoughtful and persistent youth with a big idea that is helping our communities today.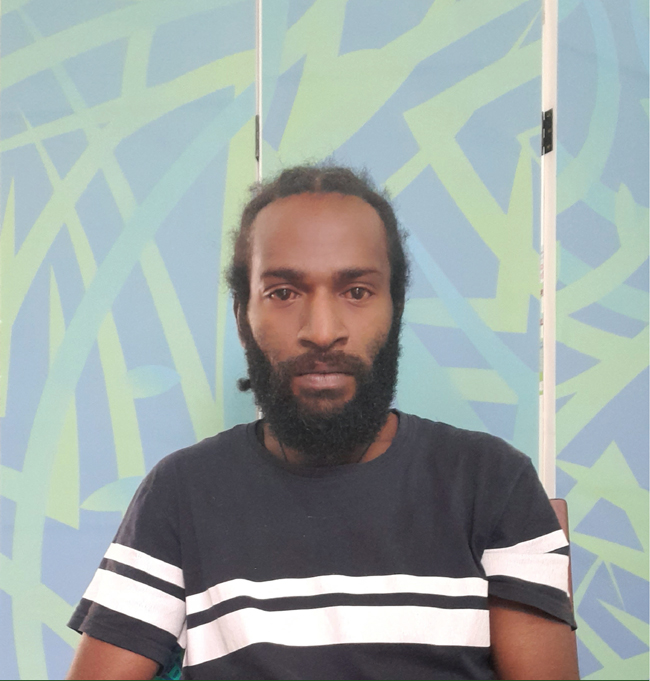 Sethy is the Manager of The 300 coconut bag project. This is a project that makes bags out of sanitised, reused plastic wrappers of products used throughout Vanuatu. The bags are a mesh of traditional Pandanus bags and modern day as the sanitised bags are interwoven with the pandanus.
The idea for the project had come to Sethy through community based activities. He lives at Freshwota, sometimes he would organize rubbish picking around the community where youth around the area would help in cleaning their communities.
Sethy recognized that every time they cleaned an area, 2 weeks later it would be just as filled with rubbish as before.
"It is always more trash covered or the same as the weeks before but it is never less" he says.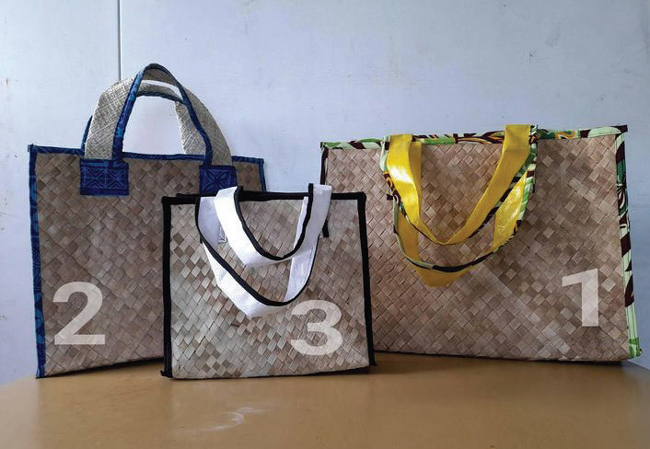 This gave him the idea to use waste plastic in such a way that it was no longer messing up the environment but being put to good use. This is an excellent initiative as plastic can take 20 to 500 years to completely decompose. It is a man-made product drawn from fossil fuel so it is only right that we take the responsibility to make the most of it in terms of use.
The main initiatives of the project is to clean up our communities while also helping those struggling to make ends meet since the pandemic. Especially handicraft mamas and those who are disabled, the project allows them to make a little income for themselves. It also engages youth as Sethy pays VT1000 for a bag of collected waste plastic wrappers. The young people fill a bag full, bring it to Sethy, he pays them and gives them a new bag to fill.
300 coconut bags has accomplished a lot since the project began. It has sponsors, several social media platforms, exposure through videos and radio shows. But Sethy says the biggest achievement for the project is establishing prototypes for the bags. This was especially hard since Mamas that tailor have little experience using plastic to sow, much more integrating plastic with their pandanus. Weaving.
It had taken 6 months to establish prototypes but now there is a 300 coconut bag for every occasion. The bags can be fashion statements as they are stylish and chic, there are plain bags just for shopping and there are reversible bags that can be used for both purposes.
The goals for this project are simple for Sethy. To progressively recycle by expanding ideas for making products from recyclable goods is the first and foremost goal, to clean up our communities and engaging as much people as possible in this environmentally conscious project.
Sethy shares that this was not always the cause he lived for. He had worked at the Pacific Community (SPC) for some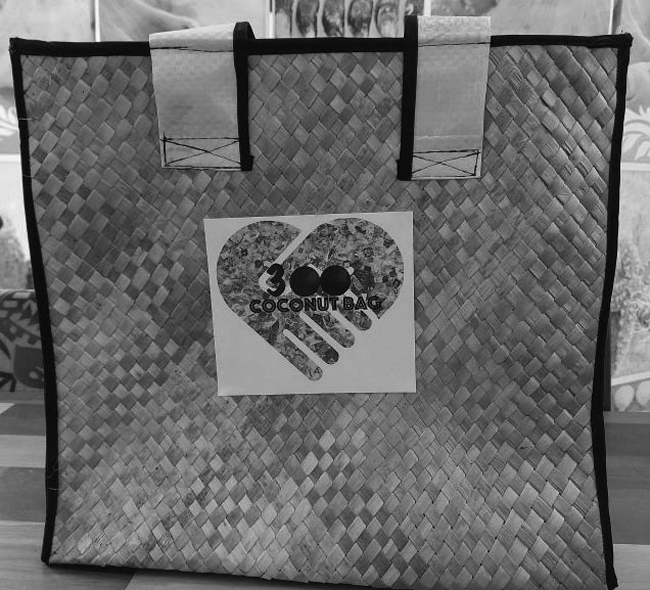 time, then later at the Municipal doing secretarial work for 3 years. From there he then worked at the market house doing administrative and finance work at the market house. However, when the pandemic hit and public crowded settings had to be shut down for health safety purposes he was affected among many others. This gave him an opportunity to focus on the project.
With help from the Director of SPC, Sethy applied for funding for the project and July of 2020 funding came through for the project. With reference from the SPC Marc Antoine of V-LAB had invited Sethy to V-Lab, listened to his business idea and was more than pleased that it was centred around being environmentally conscious, cleaning and helping the communities. He was accepted into the Business incubation program that lasted6 months and when the program was over Sethy was well equipped and ready to tackle the project set in front of him.
"V-LAB opened my perspective to the business world, especially when dealing with numbers
"Sethy says V-LAB has a vision to connect and through the program he was able to network with a lot of people that have helped him understand the business world. The program also taught him to progress a project, manage it, market and advertise it all while making a profit as well. Negotiating with other people and building important relationships with other businesses are also something he learnt in the program.
Sethy advises young people with big ideas to talk to enterprises such as V-Lab about their ideas. He says:
"You may have only a small picture of what the business could be, but if you share it with V-Lab they can connect you with people that will broaden your view on how big the idea can really be
"He encourages youth to talk to business entrepreneurs including himself about their ideas as they may be able to help with it or they may be able to connect the youth to people who can help bring that idea to life.