OPEN COACHING FOR BUSINESS RECOVERY
March 15, 2023 8:00 am | Posted in Business Profiles | Share now TwitterFacebook
Written by Emma Hivo (Communications Specialist, V-Lab)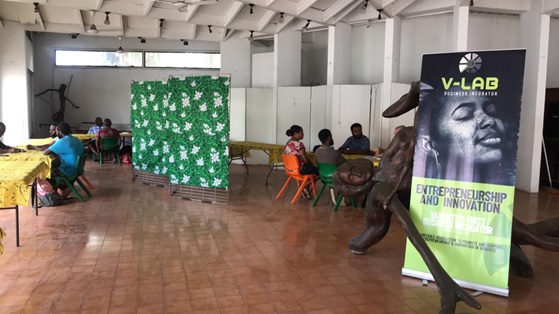 Vanuatu has faced its fair share of natural disasters in recent years, with tropical cyclones and the Covid-19 pandemic leaving many struggling to rebuild their lives and businesses. In response to this need, V-Lab has hosted its second free open coaching event to assist the business community in Port Vila to recover after these disasters.
Last year's open coaching event was held after the Covid-19 lockdown, and this year's event was prompted by the twin cyclones that devastated Vanuatu, with Port Vila being one of the areas most affected. To cater to a larger population of businesses affected in Port Vila, the event was held for two full days at Alliance Francaise – main centre in town.
The free open coaching event saw a great turnout, with people who own small businesses struggling to rebuild after losing their homes, business sites, and even equipment. The main idea of this event was to offer coaching services for free, with our amazing team of coaches set up to assist those in need. The team of coaches included Chris Elphick from Breadfruit Consulting, David Joel from Nambawan Security, Jean-Phillipe Sewere from Ni-van Agri Business, Velenie Jacobs from Narara Consulting, and Junior Pedro, who is a cotrainer and youngest in the team.
V-Lab's objective is always to assist the business community and support as best as possible to promote entrepreneurship in Vanuatu. The timing of this event was perfect, and the response from the community was overwhelming. This event demonstrates the resilience of the people of Vanuatu, to come back stronger after such natural events. V-Lab remains committed to supporting the business community and promoting entrepreneurship in Vanuatu.