Investing in Vanuatu
August 4, 2016 2:26 pm | Posted in Opinions | Share now TwitterFacebook
Of the many other reasons why foreign investors choose Vanuatu a few key pointers include Vanuatu's tax haven status, tourist attractions, cultural diversity and a strong o shore finance center.
Business Requirements from Key agencies
Vanuatu as a tax haven will mean, to any foreign investor, that there is:
No income tax
No withholding tax
No capital gain tax
No death duties
No foreign exchange control
Easy repatriation of profits
Duty exemptions in imports in Tourism (hotel, island bungalow); Manufacturing/ Processing; Mineral Exploration and Extraction; Diesel fuel for generation of certain electric power; Fishing Industry Equipment for village and rural fishing projects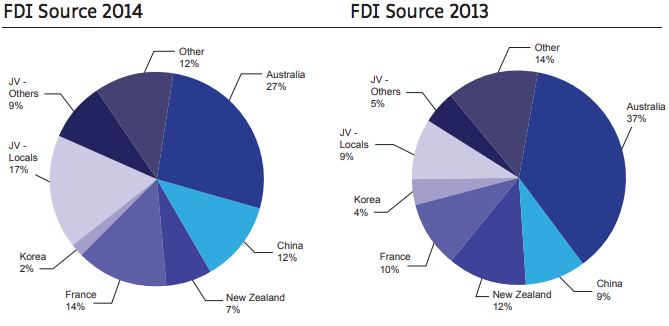 Vanuatu boasts a strong professional infrastructure that emanates from the Offshore Finance Centre and their ability to attract a core of highly experienced professionals to the country.
Vanuatu's labour rates are reasonable as compared to other countries in the South Pacific and it hosts a trilingual workforce. The infrastructure is developing at a fast rate, hosting a submarine fibre optic cable and will soon host an international multi-purpose wharf in Port Vila, international airport upgrades and renovation of wharves in the outer islands and provinces.
With this rapid level of development the continued call for foreign direct investment in key sectors is an ongoing effort by VIPA.
Port Vila is and still remains the number one choice for investors as an investment location with respect to the available infrastructure that exist. In 2015 69% of new projects established their operations in Port Vila, 12 % throughout Shefa province, and 7% in Luganville.
With the aim to eventually decentralize foreign direct investment to other parts of Vanuatu VIPA has embarked on an investment awareness program aimed targeting the Provincial Headquarters of Vanuatu with the priority objective to educate respective provinces on the importance of foreign direct investment and its benefits to the communities.
Vanuatu's long standing major source of FDI by country is Australia and New Zealand. 2014 VIPA FDI data shows Australia contributing to 27 percent of the total projects received and offering up to 40 percent of total proposed local employment during the year. However there has been an important decrease in the number of new investments received in 2014 compared to 2013 data.
China's interests in investing in Vanuatu has seen a 3% increased as compared to 2013's 9% in new investment.
Investment opportunities in Vanuatu remain open and welcome for all sectors with specific prominence on the productive sectors. Vanuatu's need for more developments manufacturing and value addition is evident to support ongoing trade negotiations and agreements of which Vanuatu is a part of.
VIPA data ascertains Services sector's dominancy however figures for Agriculture, Forestry and Fisheries sector reiterates the call for more focus on Vanuatu's agricultural opportunities through foreign direct investment.
Without FDI Vanuatu will, no doubt, suffer enormously in terms of poor export production, low income and low employment rate that may eventuate to further economic difficulties for the future.
FDI continued inflow to Vanuatu must be encouraged and supported at a national level drawing in support from key stakeholders involved in FDI development.