VT7B Pekoa Airport Runway Extension
May 21, 2022 11:12 pm | Posted in Business News | Share now TwitterFacebook
By Anita Roberts.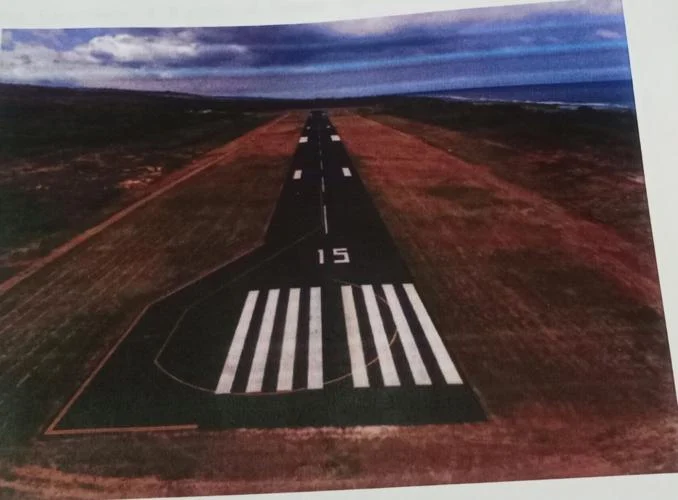 The runway of the Pekoa Airport on Santo will be upgraded to a Code E status, to allow larger aircrafts to fly in and out, and to make it accessible for emergency responses.
Pekoa Airport is the country's second biggest airport. The airport has a small runway which hinders the delivery of humanitarian aid in times of emergency.
A contract agreement was signed yesterday for the Chinese Civil Engineering Construction Corporation (CCECC) to design and construct the runway extension at a cost of VT7 billion.
The contractor will extend the runway from 2000m to 2600m long and 30m to 45m wide, extend the Taxiway from Code C to Code E and extend the Airport's apron with Code E aircraft stands.
CCECC will also construct a new runway shoulder compliant with Code E, a new Taxiway parallel with the existing one, a new Taxiway shoulder, related fence and perimeter road construction due to the extension, drainage construction and Airfield Ground Lighting (AGL) construction.
Director General (DG) of the Ministry of Infrastructure and Public Utilities (MIPU), Johnson Binaru, said since the contract agreement is non-binding, works will commence once funds are secured by the government.
Once a formal agreement is signed, works will begin and will take 18 months to complete.
Director General (DG) of the Ministry of Finance and Economic Management (MOFEM), Letlet August, as a Director of the Airports Vanuatu Ltd (AVL) Board, said the government's vision is to upgrade the airports at Lonorore (Pentecost), Motalava, Norsup (Malekula) and Tanna to Category C and the Port Vila and Santo Airports to Code E.
The Council of Ministers (COM) has endorsed for the upgrade works to firstly begin at Pekoa Airport, as works are already underway at Norsup, he said.
The investment is another government commitment to the aviation sector, said MOFEM Minister, Johnny Koanapo, who put pen to the contract signing yesterday with MIPU Minister, Jay Ngwele and CCECC Director, Ling Qing.
He said the government wants to embark on this project from July this year.
Minister Ngwele said the project will greatly benefit Vanuatu economically. He stressed that they have a lot of plans for enhancing the country's infrastructure sector, but the funding is not enough.
CCECC Director Ling acknowledged the government for having the company do the design and construction of the Pekoa Airport runway extension. He said CCECC will do its best to implement the project.
Member of Parliament (MP) for Santo Constituency, Marco Mahe, and MP for Tanna, Xavier Harry were present during the signing with engineers from MIPU, Finance and MIPU's DGs and representatives from CCECC.