APTC hosts successful GEDSI Forum
May 21, 2022 11:27 pm | Posted in Business News | Share now TwitterFacebook
By Josepheen Tarianga.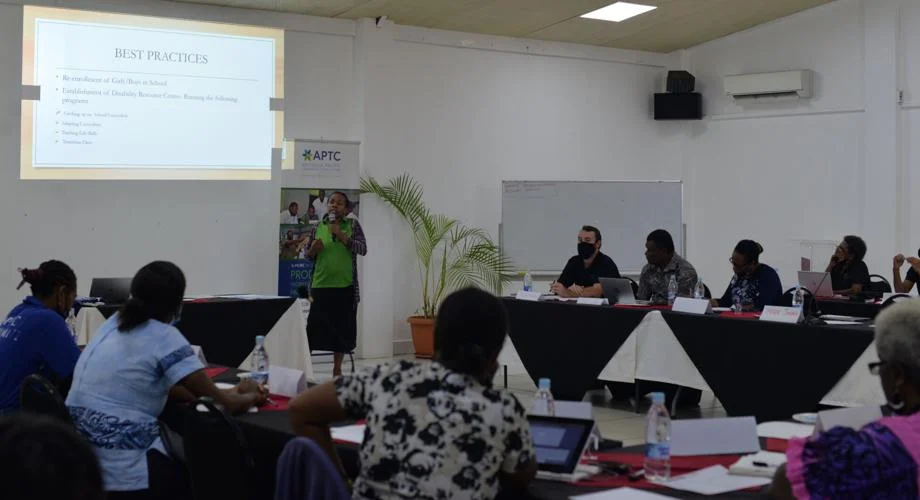 The Australian Pacific Training Coalition (APTC) in Vanuatu hosted its first Gender Equality, Disability and Social inclusion (GEDSI)workshop on Wednesday.
The forum highlighted the need for more collaboration to achieve inclusion.
APTC hosted the forum in order to track progress, challenges, changes and implementation of GEDSI inclusion in its partners in order to see areas that need strengthening, changes and more work that APTC can work towards. The forum also allowed APTC to present their plans for GEDSI.
"The discussion is to ensure 'Nothing about us, without us,'" stated APTC GEDSI Manager, Artisa Singh. She explained that the communities in GEDSI have the right to be part of the decision making when it comes to their communities, so they should have a say.
The Ministry of Education and Training (MoET) presented best practices for inclusion in a formal education stream which included establishing disability resource centers.
The MoET presenter, Marie Jonah, stated that the Open VEMIS data of 2021 shows interesting information where more boys than girls were dropping out of formal learning. Girls also have higher passing rates than boys, which she attributed as the fruits of the gender inclusion efforts being made.
"The way forward is partnership in implementing inclusive programs and activities within the community," said the Ministry of Justice and Community Services presenter, Ginette Morris.
"Working in isolation is not bringing to reality the right of people with disabilities."
When it comes to gender inclusion, the Department of Women's Affairs presented that increasing the participation of women in non-traditional courses in the TVET area is key to empowering women, but more needs to be done in the work environment of women in non-traditional spheres.
"I have been hearing about empowerment and inclusion policies since i was in high school. I am now 35. We cannot wait another 30 years to apply these policies," said VPride's Executive Director, Gigi Baxter.
"We cannot achieve inclusion alone, if we want to achieve inclusion and try to do it alone, we will not succeed," the Vanuatu Society of People with Disability presenter, Judith Iakavai highlighted.
"We must recognize that inclusion must be done with the effort of all."