Vt130 million for repair to Lenakel and Litzlitz wharves
July 26, 2021 10:46 pm | Posted in Business News | Share now TwitterFacebook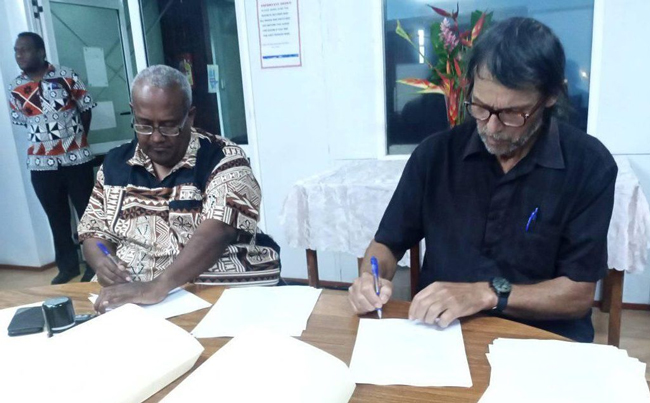 Repair works at the Lenakel Wharf on Tanna and Litzlitz Wharf on Malekula will soon begin by the Fletcher Organisation (Vanuatu) Ltd at a cost of Vt130 million.
The scope of work include wreck removals at Litzlitz Wharf and repairs to both of the existing infrastructures.
Fletcher Ltd has six months to complete repairs, starting from when the contract became effective.
The Minister of Infrastructure, Jay Ngwele, and the Manager of Fletcher Organisation (Vanuatu) Ltd, Tony Care, put pens to paper to formalize the contract agreement in the presence of the Director General and Director of MIPU, Vanuatu Project Management Unit (VPMU) and donors yesterday.
Fletcher Ltd's Manager, Care, said the timeframe given is reasonable and has assured that they will deliver as expected.
Both wharves provide vital connections in terms of domestic trade, commerce and movement of people from outer islands to Port Vila and Luganville.
Due to lack of maintenance over the past years, their structures have been deteriorated.
It took quite sometimes for the repair project to materialize because originally, the previous contractors were supposed to complete South Parray Domestic Wharf before moving onto the other project sites.
However, South Parray works were stopped reportedly due to faulty designs.
The two wharves' repairs are made possible under the Vanuatu Inter-island Shipping Support Project (VISSAP) delivered by VPMU and funded by the New Zealand Government and Asian Development Bank (ADB).
VISSAP's key aim is to strengthen inter-island connectivity through construction of new island wharves or jetties on at least seven islands including Tanna, Malekula, Santo and Efate.