M-Vatu transaction for VNPF launched
July 31, 2021 4:14 am | Posted in Business News | Share now TwitterFacebook
by Anita Roberts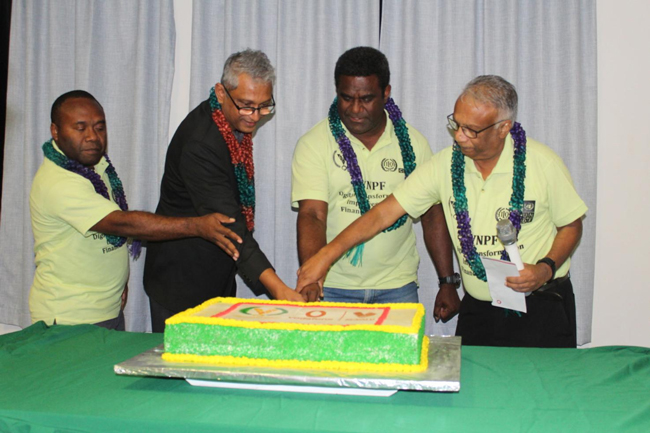 Members of the Vanuatu National Provident Fund (VNPF), particularly those in the informal sector can now make their contributions directly into their accounts using M-Vatu, a new and innovative platform.
This reliable, fast and secure mobile money service was launched by the Minister of Finance and Economic Management, Johnny Koanapo, yesterday.
"With M-Vatu, it is now easier than ever to access VNPF services for self-employed workers with the click of a few buttons. Even our seasonal workers abroad can start putting aside some of their income earned using their mobiles," said the Minister of Finance.
He said this concept of the mobile wallet has been a game changer in fostering financial inclusion, which is one of the government's key priorities.
"The government has a renewed focus on fostering financial inclusion of our informal sector workers, which make up around 80% of Vanuatu's workforce-farmers, fishermen, drivers, market vendors, handicraft makers and kava owners. Many do not have any savings or a bank account," Minister Koanapo said.
"A more inclusive economy has many benefits for our people. Aside from supporting livelihoods of informal sector workers, there are positive flow-on effects on education, health and other primary service delivery.
"With this initiative, VNPF is helping the government in improving the digitalisation of financial security and integration to our informal sector as well.
"The government is working hard to support the informal sector by facilitating inter-island trade and industry.
"This M-Vatu platform is an important stepping stone towards extending access to key productive markets and services to our rural population.
"We first welcomed Vodafone's M-Vatu initiative in Vanuatu in 2019, with the support of the Reserve and UNDP. Sending and withdrawing cash, buying mobile credit and making bill payments is now possible from a mobile phone.
"M-Vatu is a safe and convenient way for people to move money in our primary cash-based economy. And with free registration, anyone can join.
"I encourage every self-employed worker to join VNPF, register with M-Vatu and secure your future."
This M-Vatu transaction for VNPF has been realised through the partnership between VNPF, Vodafone, International Labor Organisation (ILO) and the United Nations Capital Development Fund (UNCDF).
Minister Koanapo said he has directed the VNPF Board and General Manager to work closely with Digicel, Vanuatu Post, Bred Bank and other similar electronic wallet platform providers to develop stronger working relations.
"We understand Bred Bank has already initiated discussions for their payment gateway online payment processing platform with VNPF.
"This relationship will see all Bred Bank customers which are VNPF employers, once signed up for this payment gateway, will be able to pay their monthly contributions for their employees directly through the platform.
"We are living in a digital transformation age and we need to take on board such initiative to help boost the social welfare of our members," said Minister Koanapo.
Chairman of the VNPF Board, CVNPF's GM Parmod Achary and Vodafone's Chief Executive Officer (CEO) Barlen Lutchmoodoo joined the Minister of Finance to launch the M-Vatu initiative in the presence of Vodafone and VNPF staff yesterday.