Vodafone uses M-Vatu to support Market and Food Vendors with VT2M
May 14, 2022 11:34 pm | Posted in Business News | Share now TwitterFacebook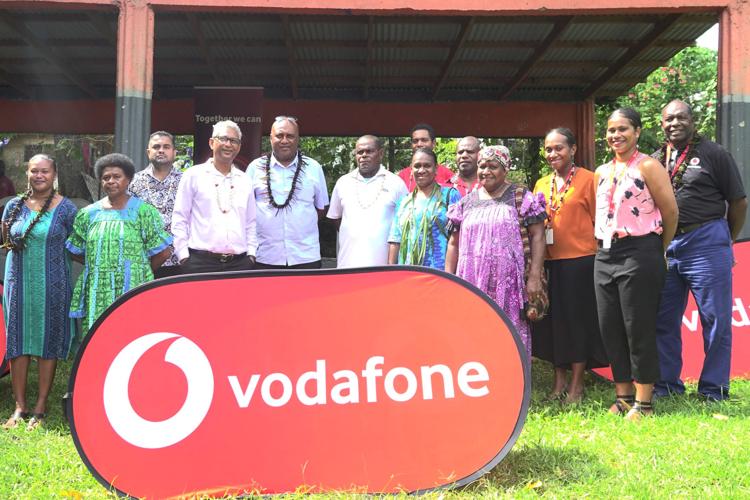 Early March this year, Vanuatu experienced the outbreak of COVID-19 Omicron variant which has significant impacts on businesses and individuals. Small business like the market vendors and the VT20 Mamas were very much affected in the lockdown as they were not able to sell their crops and food in their respective locations, this was the only means they depended on to meet their daily needs.
Vodafone Vanuatu has taken the initiative to assist over 500 mamas in the business of market vendors and VT20 mamas with the fund assistance of VT2 million. With the help of the Port Vila City Council (PVCC), the female vendors were identified, and they will be able to receive the funds through Vodafone Mobile money service – M-VATU.
"Yesterday, Friday 13th of May 2022, we were delighted to witness the first disbursement to 217 mothers at Anamburu market park in the presence of Municipal Town clerk, Area councils, mama market vendors, Vodafone Management and Staffs," Vodafone stated.
The female vendors were very happy to receive their funds in real time through the M-VATU digital payment platform. This initiative encourages them to use Digital services which is very new to most of them. They can now save the funds in their M-Vatu wallet or engage in other M-VATU services.
"Vodafone understands the struggle of the vendors during the COVID-19 lockdown," said Vodafone CEO, Mr. Barlen Lutchmoodoo.
"Walking pass the market locations and seeing it all closing during the lockdown is truly a sad image. With the current situation we are facing, it becomes hard for the mama vendors to sell their crops or food and that is the reason Vodafone has taken this initiative to support our mama vendors."
The vendors shared their heartfelt gratitude to Vodafone for taking this initiative to support them in these trying times
"We are privilege to have Vodafone at our doorstep and it is another milestone for the vendors," Ward Secretary of Anamburu, Mrs. Ruth Edward said.
"During the COVID-19 community outbreak in Vanuatu, we were not prepared with any Standard Operating Procedures to help the mothers go through the pandemic crisis," Ward Secretary of Anamburu, Mrs. Ruth Edward, said.
"Vodafone is the first company to come to our doorstep to provide help. What the mothers receive today will continue to help sustain their livelihood, in their homes to meet their daily basic needs. We really appreciate Vodafone and are grateful for this initiative."
PVCC Town Clerk Peter Sakita noted times are changing.
"We need to step up and follow the new technology that is convenient for us," he said. "M-VATU digital payment is one of them, you will no longer transact with cash, only the phone in your hands. This initiative taken by Vodafone will benefit many mothers today, it will help improve and make their lives easy."
The Vodafone Management mentioned that other fund disbursement phases will be launched very soon, and it will be extended to other islands in Vanuatu.
"Vodafone will always support our local communities. Together we can," it concluded.