Digicel partners with World Vision to improve livelihoods of 45 TORBA families
May 14, 2022 10:50 pm | Posted in Business News | Share now TwitterFacebook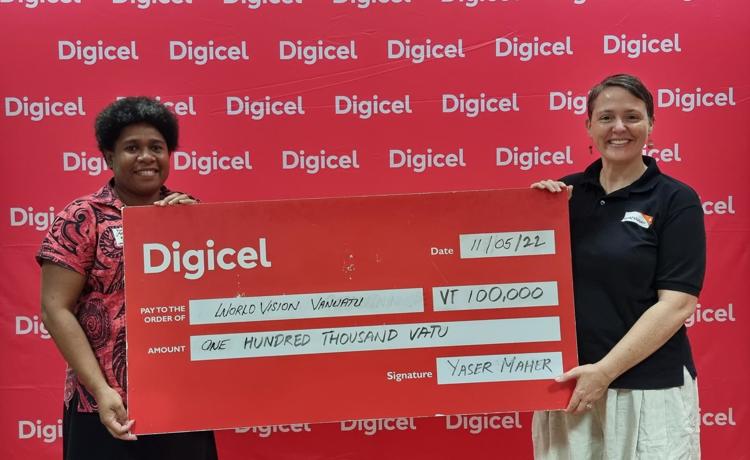 Digicel donated VT100,000 cash to World Vision Vanuatu yesterday.
The donation will go towards the purchase of seed packs that will be distributed to families in TORBA province.
The vegetable seed packets will be added to the Gender Sensitive Family Hygiene Kits that are part of World Vision Vanuatu's distribution work to families in Gaua, Motalava and Vanualava.
This work is supported by the Australian Government and Implemented through the Australian Humanitarian Partnership.
The seed packets will be added to these kits for families to plant for consumption at home and excess to be sold for an income to help them become self-sustainable.
This support is part of Digicel's 'Your Tuff Tumas Data Partner' campaign, launched on 1st of April 2022, during the lockdown when the country declared its first COVID-19 community transmission.
The Your Tuff Tumas Data Partner campaign was launched to reassure the people of Vanuatu that Digicel is by their side through the challenges many are facing by means of offering various services to the people of Vanuatu to help keep them connected with loved ones online safely from the comfort of their homes.
"The Your Tuff Tumas Data Partner Campaign, is being driven to reassure the people of Vanuatu that we support them and understand the hardships they are going through during the pandemic," Yaser Maher, Digicel Vanuatu Chief Executive Officer (CEO) said.
"It's important for the Digicel family to help in whatever way we can and this support to World Vision will help them help those in the outer islands become self-sustainable with the seed packs distributed.
"We understand unity is the way forward for Vanuatu and we must all play our part to support each other to do so.
"This is what our new Your Tuff Tumas Data Partner Campaign is about, and we are not only proud of how the people of Vanuatu have been handling things during the lockdown, but we have in turn made it our mission to reassure the people that life can still go on safely from the comfort of their homes when they use our services and products. We know the people of Vanuatu are strong and resilient enough to get through this if we all stand together and support each other."
Mrs. Kendra Derousseau, World Vision Vanuatu's Country Director, highlighted that World Vision Vanuatu is excited about this contribution as it will support our continuous work towards helping build resilient communities in Vanuatu.
"With COVID-19 impacting the country, it is vital we don't forget the importance of maintaining a nutritious diet for families," she said.
"When families get the proper nutrition, children are able to grow and stay healthy, parents and caregivers including pregnant mothers and people living with disabilities are able to be healthy enough to meaningfully make a contribution to their home and community."
Digicel Vanuatu continues to commend the people of Vanuatu on their resilience and strength through hard times, as they have proved over and over again facing hardships from natural disasters to COVID-19 and are proud to support local communities during this time of need.