Vodafone Invests VT2Million in supporting Mamas
May 13, 2022 10:45 pm | Posted in Business News | Share now TwitterFacebook
By Josepheen Tarianga.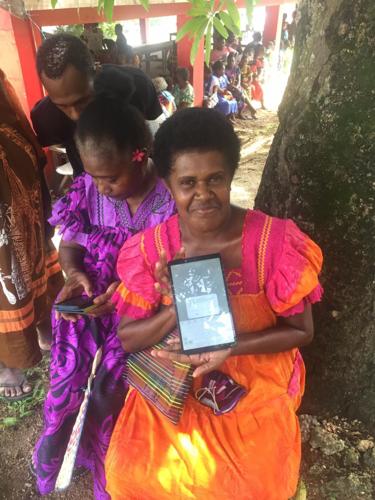 Today Vodafone launched the 1st phase of disbursement of a sum of VT5,000 to 217 women. Overall, the communications company has budgeted Vt2Million to help 300-400 women throughout Vanuatu.
The assistance was very much appreciated by the mamas and market vendors that received it as many expressed how they were not able to make any money during the curfew period and what little was saved, they had spent on daily living expenses.
The mama's representative and Ward Secretary, Ruth Edward, thanked Vodafone for recognizing the needs of the vendors as the group gathered at the Anamburu park. The vendors and mamas were from Anamburu, Ohlen, Melcofee, Seven Star and White Wood.
Jackie Willie Nubwen, Marie Joe Manwo, Annie Nambong and Elsie Philip are a few of the Mamas that are enrolled in the M-Vatu app and have also received a sum of VT5,000.
"I will use the money to start up my VT20 business again" said one of the women.
"I will use the money to continue making the noni medicine that I have been making for some time now" says a male market vendor that was also a part of the M-Vatu disbursement.
The recipients were grateful for Vodafone's generosity and assistance.