VNPF REACHES MILESTONE WITH MEMBERS' BENEFITS
December 24, 2020 3:51 am | Posted in Business News | Share now TwitterFacebook
By Kizzy Kalsakau and Royson Willie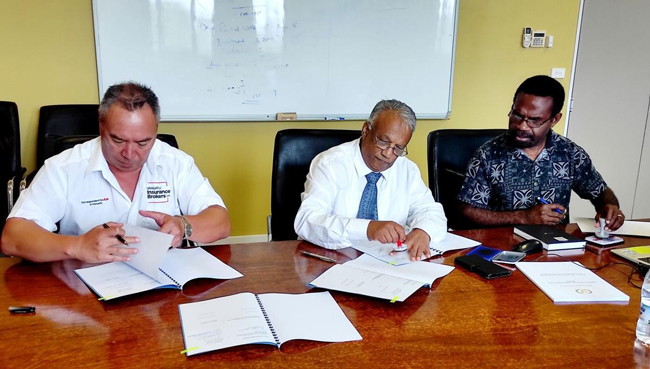 Members benefit for Vanuatu National Provident Fund (VNPF) members will formally begin on January 1, 2021.
General Manager of VNPF, Parmod Achary, says the benefits being introduced are aligned with the needs of Vanuatu people.
The premium for the social benefit scheme is Vt10,000.
One of these benefits is a death benefit where the nominee is given funds to cover funeral expenses if a member passes away.
Another covers members that are injured.
And during cyclones, members that are affected will be able to also get a benefit under this scheme.
On Monday this week General Manager of VNPF on behalf of the Members put pen to the agreement with Mr Bob Sanders, the Managing Director of Vanuatu Insurance Brokers (VIB), formerly known as AON that has been working closely with the fund for 20 years now.
VIB will be working with VNPF to carry out these members benefits.
Mr Achary says this is something new and VNPF does not have the expertise, which is why the project was advertised for a company to manage.
The VNPF General Manager says the Vanuatu Insurance Broker will be managing the scheme in the first four years.
He assures members that VNPF will be in the forefront in all decisions taken under this scheme.
Meanwhile, VIB Manager Sanders says the company is happy to be part of the scheme.
Currently VNPF has 101,000 members.