Provincial Health Workers thanked for Vanuatu COVID-19 free
December 24, 2020 3:44 am | Posted in Business News | Share now TwitterFacebook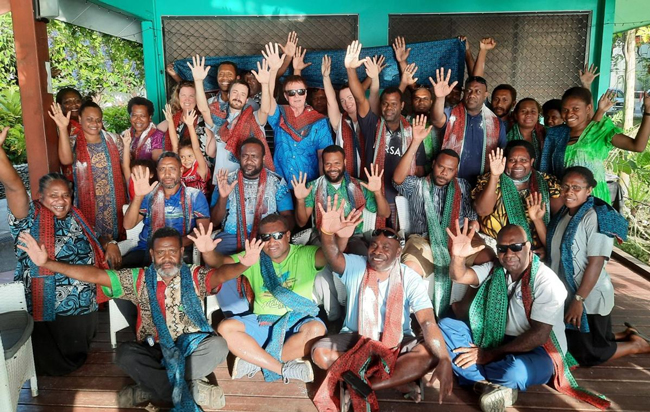 All around the world frontline health workers are thanked for their hard work and dedication to respond to the COVID-19 pandemic. In Vanuatu, the staff of the Shefa Provincial Health Department hosted an afternoon tea to thank their health colleagues from other provinces for their solidarity and hard work to fight successfully against COVID-19.
There has never been any case of COVID-19 in Vanuatu communities. Some people could say Vanuatu was lucky and they would be right. However, luck cannot be the only answer. After all Vanuatu is amongst a handful countries around the world with no active COVID-19 case. Preventing a world pandemic away from entering its communities requires strategic decisions and a good coordination of different organisations and management of workers' skills.
Both the National Disaster Management Office (NDMO) and the Ministry of Health have successfully led the response to fight COVID-19 in partnership with the Shefa Province. The efforts focussed on developing an effective quarantine system to ensure virus did not spread in the communities. Different partners participated actively into the response including the provincial health workers.
The Ministry of Health called on them to come to Port Vila to support their health colleagues from the Shefa Province and to learn COVID-19 preparedness response skills.
Lolyne Jeremiah Arnhambat, Provincial Public Health Manager for Tafea Province, is one of them. She has been in Port Vila since 5 November. With the last 2020 repatriates out of quarantine she can now go back home with her family.
"During these two months I have learnt so much. Participating in the quarantine system provides me the confidence to run similar operations in Tafea province if there would be a case," said Lolyne.
The Ministry of Health also provided the Provincial Health Workers with a set of COVID-19 preparedness response training. This included support to develop surveillance plan for their province and to detect people facing mental health issues while in quarantine.
Shefa Provincial Public Health Manager, Obed Manwo, Shefa Provincial Health Administrator, Morris Amos, and Shefa Provincial Assistant Nursing Services Manager, Barry Saniel, thanked warmly their colleagues from other provinces for participating in the national COVID-19 response.
"It has been an incredible journey. Thank you [provincial health workers] for leaving your family and your normal duties for helping Shefa Provincial Health Department in this fight against COVID-19. We faced a lot of challenges, but we can be proud to say we met our objective. Vanuatu remains COVID-19 free," said Obed Manwo.
"No one can achieve alone or in isolation what we have accomplished. We proved that working altogether in combining our health resources from national and provincial levels work," said Morris Amos.
They also thanked World Vision Vanuatu and the Australian Government for their ongoing support to develop and implement Vanuatu's quarantine system.