Ahapi Stationery opens in Luganville
December 29, 2020 5:07 am | Posted in Business News | Share now TwitterFacebook
By Len Garae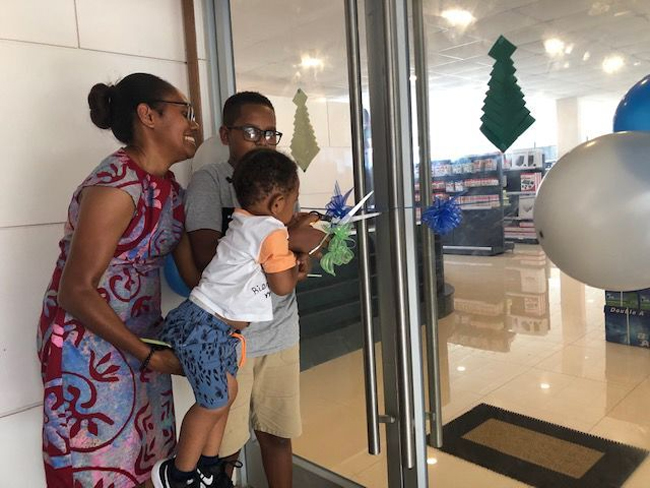 "My message to all schools and parents is for them to come and see what Ahapi Stationery has to offer. If we don't have available what they want, we would be most happy to source them for our clients. We are there and we want to be the best stationery in the country."
Indigenous investor, Johnny Arnhambat, makes the statement after launching the second Ahapi Stationery in Luganville on December 20, after the first bookshop by the same ni-Vanuatu Company, was launched in Port Vila on January 19 this year.
For the successful ni-Vanuatu investor, indeed action speaks louder than words because the launching in the Northern Town was mistaken by locals for a foreign investment by an expatriate investor.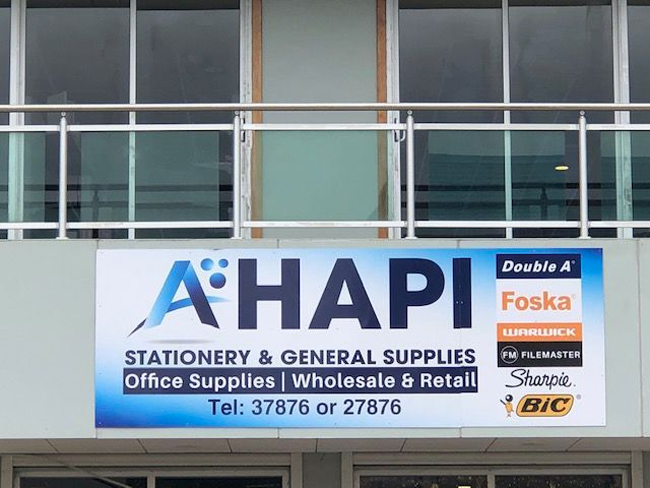 But the ni-Vanuatu investor shrugged it off as just one of those developments that have to emerge at this time especially immediately after the country's graduation from its former Least Developed Country to Developing Country status.
Interestingly the Luganville Ahapi Stationery with its competitive prices seems set to have opened its doors at the right time, especially as it already has Torba Province, Sanma Province, Penama Province and Malampa Province in its sight.
In other words the company is prepared to cater for the stationery interests of all four Provinces too.
"It's quite a big building with so much there for people to eye shop to find so much varieties of goods in terms of stationery and other services, we can be of assistance to them to help them to get their specific orders," explains the investor.
"At the same time I think it is only proper just after our graduation from LDC, we need to prove ourselves that economically, we are capable to prove to the outside world that we are able to stand on our own feet."
He says the timing is right for the Government to play its part while the private sector also participates actively in the economic development of the country.
"At the same time we want to ensure that the economic development of our Provinces is also on the same pace of development, to confirm that 2020 will go down in history as our country's economic springboard from which we as a company, have embarked on our continuing economic vision to connect with Luganville followed by Tanna perhaps next year then Malekula," Arnhambat continues. He is optimistic that Luganville Ahapi Stationery is going to be a "trading centre" for all four Northern Provinces.
"Also we believe that as a ni-Vanuatu company, we have to prove that celebrating 40 years of Independence means that we are capable of exploiting our own resources to actively contribute to the economic development of our country", he adds.
"But we must also acknowledge our foreign investors including the Chinese, for being there before us to maintain our country's economic prowess to help project us to Developing Country level".
But Arnhambat admits that the country's graduation has a short list of ni-Vanuatu investors to its name. What he wants to see is more ni-Vanuatu stepping out from the safety net of spectators to join the current indigenous investors to play an active role in the economic development of the country.
"We go to school to graduate to return home to work. Perhaps after a while, we have to start challenging ourselves as to what we as individuals, can do to contribute towards the development of this nation", he insist.
Arnhambat says the purpose of launching Ahapi Stationery in Luganville is to "assist Luganville Stationery" to provide an alternative service to the population.
"We want to set the bar high so that our local clients appreciate that we are there to provide another professional service to assist children to access their school items for their studies," he says.
Asked what prompted him to take the risk after investing millions at Go Eton, the Ahapi Stationary in Port Vila and now in Luganville, he replies, "Our parents drummed the message home to us when we were kids that we had to study well to make sure we did not return to where they were".
The name Arnhambat is well respected on Malekula to this day as once belonging to a paramount chief of the Big Nambas Tribe in North West Malekula.
Johnny Arnhambat has moved on to marry his wife Mary from Ambae, and they have three adult children – two girls and a son as well as grandchildren.
He and his wife have made sure that their siblings are playing an active role in the running of the family businesses.
In fact to live up to his determination to involve his entire family in the business, the investor ensured that the Stationery in Luganville was officially opened by two of his grandchildren