Fibreglass Vanuatu Wins Bid to Supply Solar Fibreglass Refrigeration System
January 25, 2022 3:53 am | Posted in Business News | Share now TwitterFacebook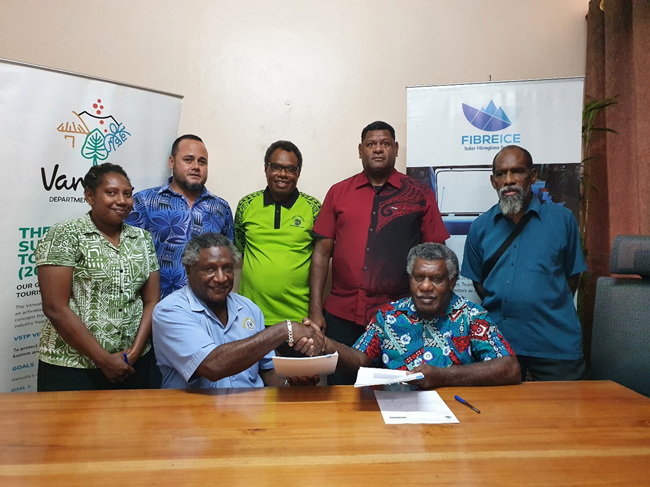 Fibreglass Vanuatu in partnership with RME Electrical are now supplying a 'plug and play' fully integrated off grid solar fibreglass refrigeration system designed, manufactured and fitted with high quality Australian made equipment.
"Our Fibre Ice off grid solar refrigeration systems are able to withstand a harsh environment which is representative of life in our rural areas," Managing Director of Fibreglass Vanuatu, Geordie Mackenzie stated.
"We understand the needs of our rural people and have worked with RME Electrical to develop a product to meet these needs. The freezers are made of long lasting non corrosive fibreglass material and high quality parts. Continual testing shows Fibre Ice systems are able to hold -25 degrees and maintain -18 degrees for extended periods of time as per International Food Standards. This is excellent performance considering the likely delay in arranging repairs in remote locations."
Minister of Tourism, James Bule, signed the contract with Mr. Mackenzie for the supply of the solar fibreglass refrigeration systems to be supplied to tourism operators in all six provinces of Vanuatu as part of the Produktif Turism Blong Yumi Initiative.
"I spent over VT500,000 on a solar refrigeration system for my rural tourism business on Ambae from a different supplier and not long after installation it hasn't been working," Minister Bule stated during the signing.
"I've just wasted money after 12 months because I have something that doesn't work and is out of warranty. This is not good enough for our rural businesses. Unlike the system I brought, the 'Fibre Ice' solar refrigeration is looking very promising. Considering the 10-year warranty and impressive results from testing of the 'Fibre Ice' systems and the fact that it's supplied by a reputable local business gives me great confidence.
"As Minister responsible for tourism I want to see more collaborative business models such as this with genuine partnerships between foreign and local businesses going forward."
The Vanuatu National Energy Roadmap 2016-2030 (NERM) has a target to provide 100% access to sustainable and reliable electricity in off-grid areas by 2030.
In 2019, the Department of Tourism (DOT) participated in pilot solar subsidy scheme for off-grid solar freezers for 13 remote small tourism businesses in four provinces.
As part of the monitoring and evaluation of the solar freezers, the systems were found to be inadequate to the conditions in rural Vanuatu.
"The suppliers claimed the life expectancy is 5-7 years with a 1-year warranty, however in less than 6 months most of those solar freezers were showing significant impact due to the salty humid environment with corrosion being the biggest problem," DOT Director Jerry Spooner stated.
"This review shows us what happens when we go for cheap products that are not suited to rural life in Vanuatu. As part of our Vanuatu Sustainable Tourism Policy (2019-2030), National Sustainable Development Plan (2016-2030) and commitment to the Sustainable Development Goals we must ensure our rural tourism operators have access to high quality long lasting products that can withstand rural conditions and keep food safe for visitors.
"It is not environmentally sustainable to support products that end up in landfill after 12 months or as we mostly see, they end up becoming mosquito breeding grounds.
"And with the increasing impacts from climate change our tourism operators need access to products that can support them to be resilient while also reducing our dependence on fossil fuels. We would prefer high quality products that may cost a little more but will last longer and give confidence to our rural tourism operators."